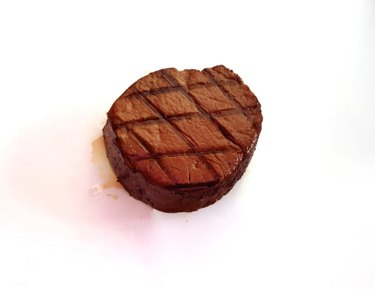 Usually when you order a steak, it comes hot off the grill to your plate. However, a delicious filet mignon can come straight from your oven instead. The oven provides a great way to cook a filet with the kind of heat that will seal the flavor inside the steak and make sure that it is juicy and delicious when it hits your plate.
Seasoning
Season the filet mignon before you cook it. At the very least, rub some black pepper and just a touch of salt into the meat. To keep juices in, wrap a piece of bacon around the outside of the steak. Tightly wrap the bacon around the steak and then stick a toothpick through it to hold it in place. Filet mignon is a flavorful steak that doesn't require much preparation, but if you have a particular rub or marinade that you like on beef, it will work perfectly well on this cut as well.
Start on the Stove
When you cook filet mignon in the oven, start it on the stove first. Use a large iron skillet and heat up some oil on top of the stove. When the oil starts to smoke, slap your steaks down in the pan. Sear each side of the meat for about three minutes. This seals in the juices and the flavor of the steak before you transfer it to the oven. An iron skillet is ideal because you can simply transfer the entire skillet into the oven.
In the Oven
Preheat your oven to 400 degrees Fahrenheit. If your skillet is oven-safe, place it in the oven. Check the bottom of the pan or the included documentation to determine whether or not the skillet is oven-safe. If you don't have an oven-safe skillet, you must transfer the steaks to an oven-safe pan. Use a meat thermometer to decide when the steaks are cooked. Rare between 120 and 125 degrees Fahrenheit. Well-done steaks should be at least 160 degrees Fahrenheit, and medium is within the range between. A medium-rare steak should take about 15 to 20 minutes.
Out of the Oven
When your steaks reach the desired temperature remove them from the oven, but don't serve them immediately. Instead, let them sit for about five to 10 minutes. Put them on a rack or in a dish and cover it with aluminum foil to keep the heat in. When the steaks sit, it allows for the juices to settle back throughout the meat to ensure a juicy taste and tender texture throughout.