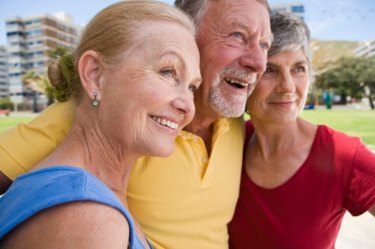 Turning 57 means you've had a few years to enjoy the new found maturity and freedom that comes with this stage of adulthood. Your birthday celebration should reflect this, along with the gifts you select for yourself. If you're shopping for a loved one who is celebrating a 57th birthday, clever presents are a thoughtful way to make this birthday memorable.
Birthday Makeover
Treat yourself to a spa and salon visit to change up your look as a birthday present. If you know that friends and loved ones are planning a party or birthday dinner for you, schedule your appointments before the celebration so you can surprise everyone. Get your hair dyed that lighter shade of blond or brown that you've been considering, or add highlights for subtle hints of color. Ask your beautician to add noticeable layers or bangs to your hairstyle if you want to keep the length, or get a drastic haircut that compliments your face shape. Get a relaxing pedicure and massage, then visit a makeup counter to have cosmetics professionally applied; try something new by adding a different color to your eyes or lips before heading off to your birthday party.
57th Birthday Vacation
Organize a birthday vacation yourself and invite your loved ones to come along. If you love the outdoors and don't spend enough time in nature, take a weekend camping trip with your girlfriends so you can relive old times by telling funny stories, roasting marshmallows and going canoeing and swimming together. Or, arrange for you and your husband to take a trip to a destination you have yet to visit, like the Bahamas or Fiji. Bring along a digital camcorder so you can document your snorkeling adventures or the delicious ethnic foods you're indulging in.
Golden Birthday Celebration
Even though the 50th birthday or anniversary is traditionally characterized by gold, you can keep the golden theme going for a 57th birthday event. Decorate a site for a 57-year-old loved one's celebration with gold balloon bouquets on the tables and in the corners of the room, and use gold confetti on the tables, along with white synthetic flowers tinged with gold spray paint. Set up a DVD and projector to showcase memorable pictures of the guest of honor, like wedding pictures, graduation photos or pictures of the guest of honor as a baby. Play music from the 1950s, like tunes from Dean Martin and Rosemary Clooney and serve golden-themed desserts like cupcakes sprinkled with edible gold dust.
Decade-Themed Gifts
Give your loved one an elaborate 57th birthday gift basket featuring items from the 1950s, the decade the recipient was born in. Include DVDs of shows from the era like "Dragnet" and "I Love Lucy," along with small jars of candies like Jawbreakers, Lemonheads and candy cigarettes. A few of the recipient's favorite baked gods, like homemade cookies or brownies, add a personal touch to the basket. Add CDs with music compilations from artists of the decade, like Nat King Cole and Bing Crosby, and a greeting card wishing the birthday girl happiness and health in the upcoming year.