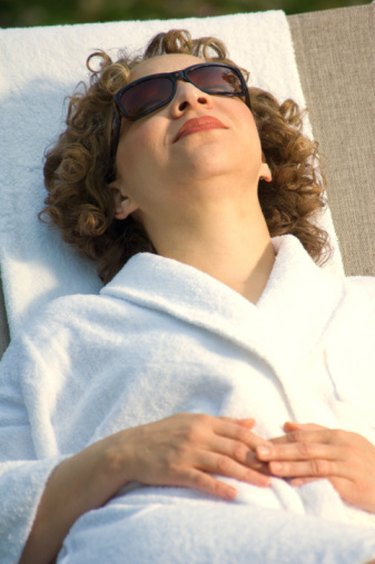 Terry is a thick, pile fabric with uncut loops on both sides. It usually is made of cotton and is a highly absorbent fabric. It mostly is used for towels and bath-wear. Terry cloth is not difficult to sew, but a few tips go a long way when sewing this thick fabric.
Match the Nap
Terry and any other pile fabrics have nap. Nap is the direction in which the fabric has been brushed during the finishing process of the fabric construction. Run your fingers along the length of the fabric, or up and down the grain line. One direction should feel smooth, the other direction should feel rough or resistant to being stroked in that direction. The smooth direction is the nap of the fabric. Decide which way you would like the nap to go. The fabric appears different nap up and nap down; the color varies, the shading is more extreme, and the fabric appears more lush nap up. It is important if you are sewing a garment for all the pieces to be on the same nap.
Use a Thicker Grade Needle
When sewing terry cloth, a heavier-weight needle is needed. Use a medium to heavyweight machine needle in sizes 12 or 14 in U.S. sizes, and 80 or 90 in European sizes. A wide foot is recommended to cover the pile of the fabric when using a sewing machine. If you are hand sewing, use needle sizes 5 to 9. When stitching a heavy fabric such as terry, the first few stitches should be walked on the machine. Walking a stitch is using the wheel rather than the pedal to make the first few stitches.
Finish the Seams
Terry cloth tends to ravel and fray. For this reason, it is important to finish the seams with some kind of binding stitch. The best way is to use a serger or merrow (overlock) machine to bind the seams. If you don't have access to a serger, sew a straight stitch, then use a three-step or regular zigzag stitch in the seam allowance to bind the seams.
Reinforcement of Seams
Seams appear bulky and dimensional when sewn on terry cloth. For this reason, an edge stitch is recommended in the side seam, the shoulder seam, and the front opening. An edge stitch for terry usually is 1/4 inch from the seam, and sews the seam allowance to the body of the garment. This helps to reinforce the strength of the seam and protect it from pulling apart or creating holes.