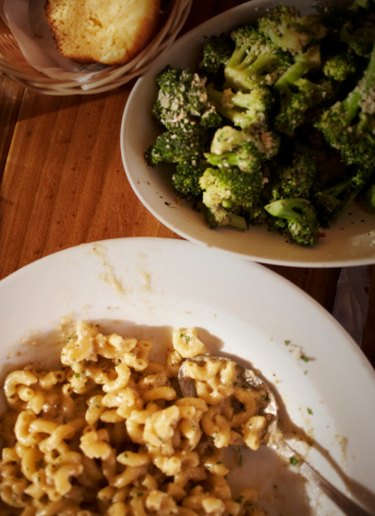 Pasta is a comforting dish that can be prepared in numerous ways. When serving a pasta entrée, serve an appetizer that complements your style of pasta and prepares your guests for their pasta course. Appetizers can range from salads to breads to meat applications that pair well with your pastas.
Salads
A common appetizer for a pasta course is salad. Pasta is an hearty meal and a salad can be a light opening to your main course. For a traditional salad to pair with Italian-based pasta recipes, try a garden salad tossed with red wine vinaigrette or a creamy Caesar dressing. Salads can also have no lettuce at all and use items such as mozzarella and tomatoes tossed with olive oil and basil or fresh assorted olives tossed in vinaigrette.
Breads and Crackers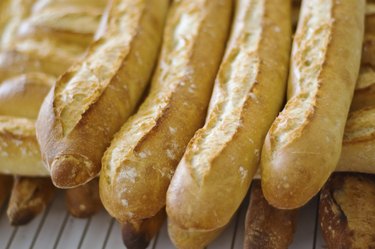 A bread appetizer should always be served in smaller portions so to not fill your guests prior to their heavy pasta course. Serve plain French bread toasted with butter and fresh garlic, and sprinkle a little Parmesan to the top. A baguette can be cut up into small slices and served alongside an olive tapenade or spicy tomato pesto as well. For guests with a more daring palate, serve fresh caviar and toasted garlic baguette chips or crackers.
Meats
Meats do not have to be large portions to go with an appetizer for a pasta course. A popular meat appetizer to serve before pasta is a carpaccio. Carpaccio is a thin slice of raw meat (fish or beef) served with a drizzle of olive oil and spices. These can be served alongside a bread or cracker or served on their own. When serving a carpaccio, use quality cuts of meat and follow recipe instructions carefully to ensure your food does not become contaminated.
Vegetables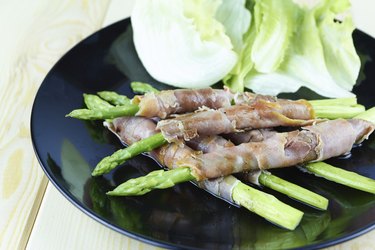 Vegetables can be a light appetizer that will satisfy your guests until their pasta course. Serve roasted asparagus wrapped with prosciutto on skewers to your guests and add spices to match the overall spices used in your pasta sauce. You can also serve mushroom caps stuffed with spicy sausage or crab, ricotta cheese or mozzarella and fresh basil for a bite-size appetizer. Artichoke hearts are another vegetable option to serve your guests. These can be marinated in olive oil, spices and vinegar or served plain and dipped into a fondue.