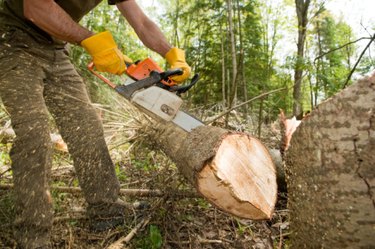 The 288XP is a large-scale chainsaw positioned in the mid-range of Husqvarna's XP line of heavy-duty machines for professional forestry work. With a magnesium crankcase for high r.p.m. resistance and a forged three-piece crankcase, these units are built to industrial standards. Effective vibration damping and an ergonomic grip with angled front handle make the 288XP user-friendly even with its powerful engine. An intertia-activated chain brake helps minimize kickback hazards when cutting large material.
Engine
The 5.4-cubic-inch, two-cycle engine produces 6 horsepower and intense operating speeds up to 9300 r.p.m. The engine employs Husqvarna's Smart Start technology for easy pull-starting.
Cutting Length
Recommended bar length range is from 18 inches up to 28 inches. The cutting chain runs at 67.91 feet per second and has a 3/8-inch link pitch.
Fuel and Lubrication
The 288XP's fuel capacity is 1.9 pints. Fuel is regular 87 octane gasoline mixed with two-cycle chain saw oil at a 50-to-1 ratio. The adjustable flow chain lubrication system holds 1.1 pints of standard chain saw oil.
Operation Characteristics
The 288XP chainsaw produces a vibration level at the front/rear handle of 6.2 and 6.9 m/s2 vibration units respectively. Sound level at the operator's ear is 100dB.