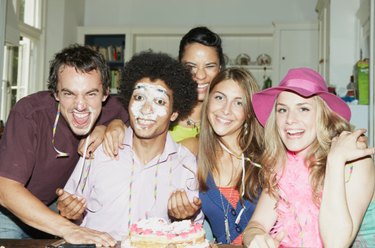 A birthday party for a 23 year-old male should be fun and energetic but with a hint of sophistication too. Birthday parties work best when they are tailored to the person they are celebrating, so if the birthday boy has a favorite drink, band and food, make sure you incorporate those into event too.
Going Out
Most 23-year-old men love going out partying at their favorite bars and clubs, so renting a space in a lively and popular place and inviting all your friends along is a great way to celebrate a 23rd birthday. You could begin with drinks in a bar which plays your favorite music, reserve some tables and ask the bartender to make up some jugs of your favorite drinks and shooters. Then head to a club for some dancing, and make sure you call ahead to get on the VIP guest list so you can jump the queue and access the exclusive areas too.
Staying In
Alternatively you could organize a party at home. It's cheaper, and you can stay up as long as you want. Make sure you warn the neighbors, though. Buy some buckets or fill the bathtub with ice to keep your drinks cool and lay out some chips and dip for your guests to snack on. Use plastics cups to save on washing up and plan your music beforehand by making some CDs or creating a playlist on your MP3 player. If you have the budget, hire a bartender to mix cocktails for you at home and encourage everyone to dress up in their best outfits or impose a fancy dress theme that appeals to your interests.
Getting Outdoors
If you prefer the outdoors to partying you could arrange an adventure sports-themed party for you and a handful of your friends. Depending on where you live, paint-balling and go-karting are really fun and energetic ways to celebrate a birthday, and your male friends will love the competitive rush it can give. You could also organize a tournament of your favorite sport. For example, if you play soccer, get some teams together and have a day of playing against each other. Or if watching rather than playing sport is more your thing, celebrate your birthday by watching a live game of your favorite team.
Take a Trip
Spread your birthday celebrations over the course of a weekend and get a group of your friends to take a trip somewhere. Drive to the next state and explore a city you have never been to or, if your budget is bigger, catch a flight to one of your favorite destinations like New York or Las Vegas. Depending on your budget and location you might choose to camp, stay in a motel, rent an apartment or even crash in a swanky hotel. Either way, spending a few days bunked up with your friends sightseeing is bound to be lots of fun and is sure to throw up some surprises along the way too.