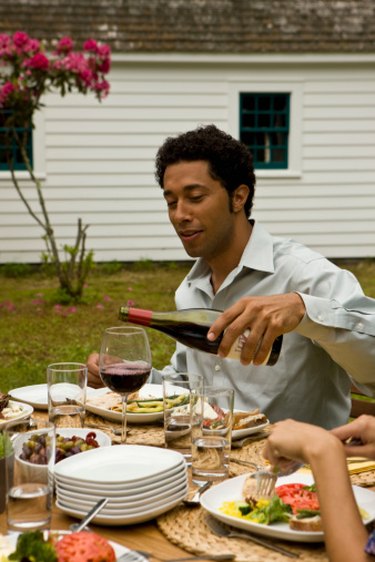 There are many themes from which to choose when hosting a luncheon. Common ideas include themes of a cultural nature, themes celebrating significant days of the year, holiday themes or themes with a cause, such as promoting awareness of breast cancer, of raising funds for a school trip.
Holiday Themes
Christmas, New Year's, Easter, the Fourth of July and Thanksgiving are holidays that lend themselves to having festive-themed luncheons. For example, a Thanksgiving-themed luncheon could involve a pilgrims and Indians theme, and a Christmas luncheon could be decorated with a red-and-green color scheme. Food ideas for such luncheons are easy to come by, as cookbooks and online recipe sites offer a plethora of holiday-centered recipes.
Significant Days of the Year
Lunch parties held on or near notable days of the year pose a fun, and less-conventional luncheon theme: the celebration of a "non-holiday." These annual lighthearted days include Valentine's Day, Earth Day, Groundhog Day, a friday that falls on the 13th, or a day that coincides with a full moon. The Earth Day-themed luncheon, for example, could offer organic, locally grown foods and eco-friendly tableware.
Dining for a Cause
Spend an afternoon with a purpose -- to raise awareness or funds for a cause close to your heart. During an awareness luncheon, give a short, concise presentation about the issue, and follow it with a short documentary on the cause or hand out pamphlets providing additional information.
Cultural Themes
Celebrate a culture, and enjoy the exotic and foreign foods it is known for with others for a cultural-themed luncheon. There are countless options, depending on your preferences and culinary skills, including a Spanish luncheon, Thai luncheon, Mexican luncheon, Japanese or sushi luncheon, or Middle Eastern luncheon.