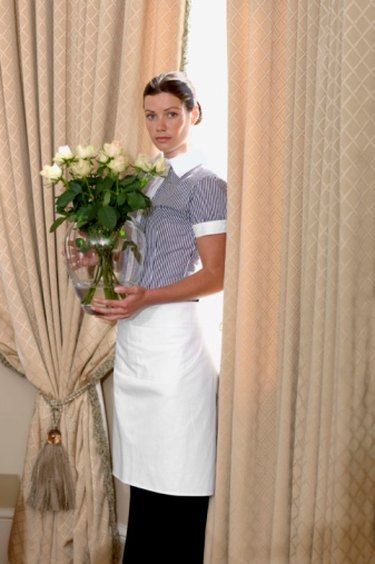 No flower arrangement is complete without a backdrop of ferns to set off the beauty of the flowers. Without the right variety of ferns and greenery for balance, orchids will clash and drown in each other's ornateness and roses will may simply look gaudy. Many ferns used in floral arrangements are not true ferns but are members of the lily family, which are closely related to asparagus.
Leatherleaf Fern
The most common type of fern used in floral arrangements, leatherleaf fern is a robust shade-grown fern that retains its shiny appearance and deep green color when preserved. Its botanical name is Rumohra adiantiformis. It is very popular for its indefinite spreading and subsequent usefulness as a ground cover. Its low maintenance and minimal thirst make it a popular choice for use in flower arrangements.
Tree Fern
Delicate, feathery and very versatile, the Australian tree fern, or Asparagus virgatus, is not a true fern; rather, it is a member of the lily family. It grows year-round and is recognizable by its erect stems with quite a bit of branching and no spines. Because of its delicate appearance, this fern is most often found in bud vases or as part of a corsage or boutonniere.
Ming Fern
Like the Australian tree fern, the Ming fern is technically in the lily family. Its woody branches are covered with tufts of short, needle-like green foliage. Also known as Asparagus macowanii, it grows year-round and works best in designs showcasing tropical flowers and orchids. However, it is often found as a complement to wedding boutonnieres.
Sprengeri
Yet another lily that behaves like a fern, Asparagus densiflorus, also known as sprengeri, is a bright yellow-green perennial with red berries, waxy white flowers and scattered small thorns. Though sprengeri is a good houseplant and landscape element, especially in hanging pots or as a ground cover in the garden, it goes well with lilies, roses and orchids. It is often used as the background in funeral and wedding arrangements.