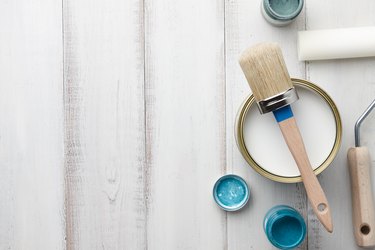 Exterior paints are formulated with chemicals that make them waterproof and resilient to extreme weather conditions. You do not need to seal most types of painted wood with anything; however, because certain types of painted finishes are subject to duress, a wood sealer can help prolong the life of the finish. If you need to seal painted exterior furniture or decks, choose a compatible coating.
Polycrylic is a clear acrylic product with polyurethane resins. These resins protect the paint from moisture and duress. This coating bonds best with flat latex paint. If you painted your exterior wood with a high-sheen paint, you may or may not have potential long-term adhesion problems. The chemicals used to create the gloss within the paint may prevent the polycrylic from permanently bonding. For this reason, it's best to use polycrylic sealers with flat paints only. Bear in mind that polycrylic is water-based and will not bond to oil-based paints.
A clear polyurethane topcoat can seal exterior paints and help prolong the life of the finish. This particular sealer is similar to polycrylic except it is available in two forms. Water-based polyurethane is suited for latex and acrylic painted finishes. If you would like to apply a protective sealer to an oil-based paint, use a solvent-based polyurethane. Don't confuse the two, or rampant flaking will prove unavoidable.
Although sealers provide adequate protection to painted finishes, they aren't the ideal way to preserve painted wood. If you are concerned about weather exposure, paint your exterior wood surface with a durable, waterproof acrylic enamel. This type of paint requires no sealer topcoat to protect it from abrasion and moisture. It is relatively easy to apply and provides a very attractive glossy finish.
If you plan to apply a clear sealer to a painted finish, thoroughly clean the surface prior to application. Unseen dust and oils will prevent the clear polycrylic or polyurethane from bonding to the paint. Be sure that the surface is totally clean and dry before you begin the application process.