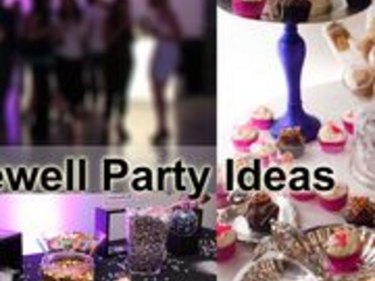 If a friend or loved one is moving, throw him or her a farewell party. A farewell party is an opportunity to salute the person moving away and commemorate the time he or she spent in the community. Incorporate a theme or entertainment into the farewell party to make sure it is a success for the host, party guests and most importantly, the guest of honor.
Themes
Throw a surprise party and keep the party a secret from the guest of honor. Or, create a theme around the city or state the person is leaving to remind him or her of all of the good times he or she had while there. Add food, decorations and invitations that revolve around the home he or she is leaving and the destination. For example, if your guest of honor is leaving Chicago or heading to it, serve Chicago hot dogs or Chicago-style pizza.
Decorations
Decorate the farewell party with going away or "bon voyage" centerpieces and banners found online or at party stores. Photos also make great decorations. Try using memorable photos of the guest of honor and his or her family and friends that can serve as a reminder of the guest of honor's good times in the place he or she is leaving. Use the photos as table decorations or hang them on walls.
Entertainment
Plan entertainment and activities for the farewell party. Show a video or slideshow of photos and video clips of the guest of honor. Add a recording of his or her friends and family saying farewells. Have everyone at the party watch the video together and give it to the guest of honor as a gift. Games that commemorate the guest of honor are another idea for farewell parties. Set up a trivia game with facts about the guest or honor or have visitors take turns rehashing their favorite memories of the person leaving.
Favors
Favors are a way for guests to remember the farewell party. Create gift bags for each guest with a new change of address card so they all have the new contact information for the guest of honor. Add pens, notecards and stamps to encourage guests to keep in contact. Group photographs taken during the party can be printed off and put in the gift bags as well. Souvenirs such as keychains or shot glasses from the town the guest of honor is moving to also make great items for gift bags. Favors such as glasses guests can use to drink from during the party and take home after the party can be found at online specialty retailers. The glasses could say the guest of honor's name and date of the party.