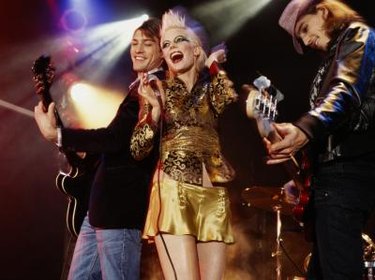 You can hardly wait for a costume party coming up soon, but have no idea what to dress as. Female rock star costume ideas could go in numerous directions, and the nice thing about most of these costumes is that they're comfy enough to wear for hours. Dress as your favorite rock star, such as Joan Jett, Tina Turner or Gwen Stefani, for a look that's not only comfy but fun.
Female Rock Star Costume Ideas
The most obvious rock and roll costume ideas come from those stars with iconic looks. Joan Jett's classic look is easy to pull off, especially if you have dark hair and don't need a wig. Dress in black or red leather or pleather pants, paired with a white or black rock music t-shirt and an optional black leather biker jacket, or skip the jacket and t-shirt and wear a tight black vest as your top instead. Wear black boots, then adorn yourself with black leather watch bands, bangle bracelets and a thick black belt with chains. Use hair gel, or a wig, to get that spiky, shaggy rock star hairstyle.
Stevie Nicks' look, sometimes described as witchy, makes it perfect for Halloween. Her style combines a lot of textures in black, dresses or outfits with flowy sleeves, black lace, sometimes fringe and sometimes velvet. A dress that looks like something a witch might wear to a formal event would be perfect. Wear a black top hat, carry a tambourine, and optionally, wear long black formal gloves.
If a Billie Eilish look is what you have in mind, go for one of her immediately recognizable styles, such as one featuring neon green. Use spray-on hair color to achieve the bright green tone atop your head, near the roots. Wear matching bright green shorts and T-shirt, or decorate those with Billie's name spelled out in different graffiti-style lettering in random spots all over the outfit. Wear neon green shoes and socks to round out the look.
Think about some of your other favorite female rock stars from any era. Tina Turner's look from the 1980s is pure rock star, with big hair, fishnet stockings and sometimes a denim jacket, usually worn over a sexy dress. A Tina Turner wig is key to the look, unless your current hairstyle can be coaxed into place to look like Tina's with vast amounts of hairspray and gel. Wear dangling rock-star-worthy earrings to round out the costume.
Go for the No Doubt-era Gwen Stefani look by wearing pants with stripes on the sides, decorated with a studded belt with loads of attached chains. Wear a sports bra and wrestling shoes and a bleach blonde wig, pulled back into one of Gwen's styles of the era. A huge, retro black wig in a vintage style is the key to an Amy Winehouse look, along with mascara extending well beyond both your eyes towards your scalp in an ancient Egyptian or cat's eye look. Outfits vary, but a white tank top and cutoff denim shorts is one option, or a short checkered or black dress. Wear large earrings visible from afar.
For more general female rock star costume ideas, pick standout common clothing elements worn by rock stars, male or female. Think black leather, or go for the hair-metal 1980s look with a big wig, Spandex pants or leggings, ankle boots and a tank top. Use lots of chains, large belts and jewelry to adorn your rock star costume.