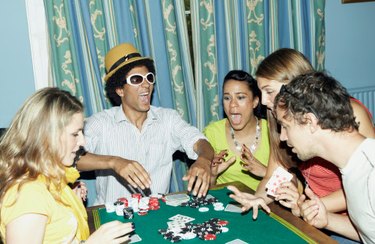 Crafts using poker chips are a great way to recycle or up-cycle the little plastic discs. You can make jewelry, photo frames and decorative items and themed coasters. Poker chips are typically offered in red, white and blue colors, perfectly suited for making inexpensive decorations and party favors or Fourth of July and Memorial Day gatherings.
Magnets
Poker chips can be turned into colorful photo magnets for hanging on a refrigerator or school locker. You can paint the chips in your favorite colors, or use them in the colors they come in. Acrylic crafts paints work well on the plastic discs. You may need to use two coats and should spray them with a clear coat finish for a shiny look. After the discs are decorated as desired, simply print photos in an oval shape to fit the diameter of the poker chips and glue them into place. Craft glue works better than hot glue, which can harm the photos. Purchase a peel and stick magnetic strip from the local craft store and cut a piece to the desired size and apply to the back of the chip.
Jewelry
Make a broach from poker chips by simply decorating the chip as desired and using a hot glue gun to attach a broach pin onto the back. You can buy a package of broach clips from craft or hobby stores in a variety of sizes. You could make a photo broach with personal photos, images cut from magazines or printed from the internet or use a permanent marker to writer a slogan or draw a picture onto the chips. Fabric or feather adornments can also be used to turn a plain plastic poker chip into a creative and personalized piece of jewelry.
Holiday Jewelry and Decorations
Poker chips in patriotic colors or painted in red, white and blue can be used to make themed necklaces, bracelets or even a garland for a backyard holiday barbeque. Hold the chip firmly in place on a piece of scrap wood ad use a small drill bit and power drill to punch a hole through the center of the chips. You may want to measure the chips and mark a drilling spot with a permanent marker to ensure the chips will hang evenly. Use pieces of white or transparent drinking straws cut into a desired size as spaces between the chips before stringing on a piece or yarn or small rope.
Gambling Themed Crafts
Surprise the guests on your next poker night with themed drink coasters. Purchase some cheap cardboard or plastic coasters from a local discount store and decorate them with poker chips. A little bit of hot glue to adhere the chips to the coaster. The chips will hang-over the side, but will not destabilize the coaster. To continue the gambling theme, you could repeat the same process to decorate a serving tray or the sides of a wooden snack bowl.