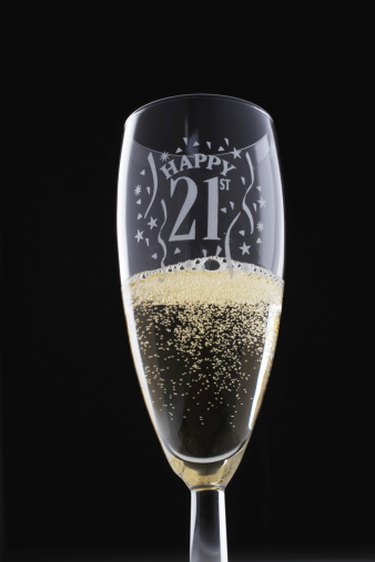 A person's 21st birthday is a major event for many people in the United States, because that is the age when people can legally go to bars and drink alcohol. When you are planning a 21st birthday celebration for a friend, go all out. Choose a location and party idea that fits the person's style and personality and remember to ensure that no one drinks and drives.
Backyard Barbecue
Throw a backyard barbecue if you want to have a casual 21st birthday celebration for a friend. Fire up the grill and cook hamburgers, hot dogs or barbecued ribs. Purchase kegs of beer or fill coolers with beers and other alcoholic drinks for the birthday boy and the other guests that are of age. You could also play games in the backyard, such as volleyball or badminton. Another idea is to play games that were popular in childhood, such as three-legged races and scavenger hunts.
Booze Cruise
If you live in a city near a body of water, consider taking the birthday girl and a group of friends on a booze cruise. In some cities, you can go on a boat trip that is made for a party. Food, music and all sorts of alcohol are included in a trip around a harbor, down a river, around a lake or in the ocean. If you can't find a business offering this service, charter a boat for the afternoon or an evening and create the booze cruise yourself.
Wine Tasting
When the person who is turning 21 has a bit more sophisticated tastes, consider having a wine tasting. Go to a local wine bar or vineyard and have a wine expert explain different types of wine, what they pair well with and let the group taste some samples. You could also hire a wine expert to come to your home and teach about wine. When the lesson is over, serve wines and hors d'oeuvres.
Weekend with Friends
Let the 21st birthday celebration last an entire weekend. Take your friend on a road trip to a city that the birthday girl enjoys. Rent a few hotel rooms and party at local clubs and bars. If you want to go all out, fly to a big city known for its night life, such as Las Vegas, New York City or Chicago. A trip is also good for someone who does not like to drink so much because there will be other available attractions.