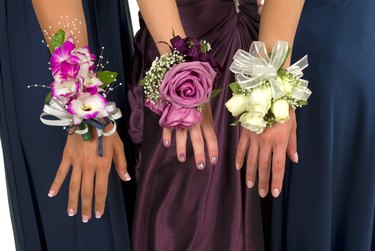 The prom, or promenade, began in the 19th century when North American universities held coed banquets for their graduating students. Over time, prom events became more teen-specific, becoming the 1940s high school dance in the gym and then evolving into the modern formal affair at a local or out-of-town venue with a sit-down dinner or prom buffet. The foods vary according to the locale and venue, ranging from a pasta, chicken or prime rib dinner to a selection of finger foods, desserts and beverages.
A sit-down dinner at a hotel or event center may vary according to budget and local preferences. In general, focus on foods that aren't messy, such as barbecue. The teens wear formal attire, and a splatter of sauce could become a dramatic and traumatic memory of their prom night.
A simple catered prom dinner could include a chicken entrée, a vegetable and roasted potatoes. A high-end menu might incorporate several main entrée choices, including prime rib, seafood, chicken or "surf and turf" along with a vegetable and potato side dish. Caterers can also accommodate vegans, vegetarians and dietary restrictions with advance notice.
A buffet allows prom attendees to select their favorites from a range of teen favorites, from fried chicken to macaroni and cheese to fresh fruit and salads. Whether you choose a buffet with servers, also known as cafeteria style, or a self-serve buffet, the catering crew will keep the chafing dishes full while the teens enjoy the meal. Be sure to consult with the students in advance regarding dietary restrictions and clearly label vegan and vegetarian options.
When putting together plans for high school dances and other homecoming dinner ideas, don't discount buffets. Even when planning a potluck for a church event, such as a missionary homecoming, food ideas can include the same elements in a less formal setting.
If local prom traditions don't include a meal before the party begins, consider a variety of finger foods arranged at several stations around the venue. Hot finger foods include pizza bites, chicken or hamburger sliders, chicken wings, meatballs, nachos, jalapeño poppers and other favorites. Cold-food stations might focus on build-your-own crostini or other appetizers, shrimp cocktail, cheese balls and, of course, chips and dips.
The classic punch is always an option, consisting of fruit juices mixed with soda and a floating ice ring. Alternatively, consider a smoothie station with one or more servers to keep the teens supplied with smoothies or milkshakes. In addition, have plenty of sparkling juices, water and ice available for thirsty guests and chaperones.
A prom can also include a candy buffet. Jelly beans, licorice bits, salt water taffy, chocolates of every kind and other candies allow you to include the color scheme of the event in sparkling serving dishes and colorful candies.
Last but not least, don't forget desserts. Ranging from a themed layer cake to cupcakes plus cookies, brownies, pie and ice cream, desserts are always a special part of the evening. Whether it be banana splits, sundaes or tiramisu, you can have the desserts on ice ready to serve or allow the teens to make their own at a special dessert station, preferably with a server to dish up the goodies.