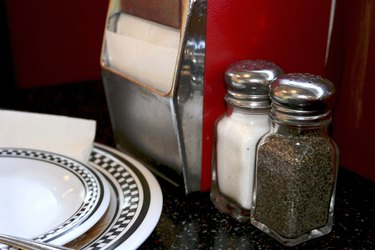 Dinnerware patterns from the 1950s run the gamut from nature patterns to Space Age designs. During the '50s and '60s, gas stations gave away sets of china and glassware when you filled up your gas tank; these items have now become hot collectibles. Also during this time, dishes made from the chemical melamine, manufactured under a proprietary name, became the dishware of choice in homes with children, as the plates -- a form of hardened plastic -- never broke.
Designs Inspired by Nature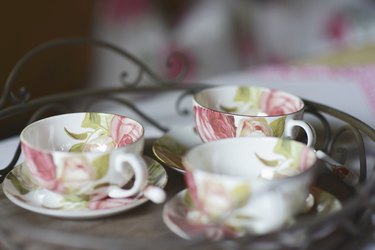 Nature has inspired many dinnerware patterns throughout the centuries, but in the 1950s, you could find a preponderance of simple designs that included graceful plant cuttings, simple floral designs, autumn themes or a single tulip. Designers named their designs for what they represented, such as: French Tulip Rose, Autumn Leaves, Blue Tulip, Garden Bouquet and Underlake.
Barn and Farm Themes
Many of the 1950s dinnerware manufacturers plucked themes right from the farm or barnyard. You can find dinnerware imprinted with the Red Rooster pattern, Golden Wheat or cows and ducks. Harvested wheat was used in a variety of farm-inspired patterns along with turkeys, geese, sheep and pigs. Some German-made dinnerware featured luscious ripe fruit themes that included peaches, pears, apples and plums.
The Atomic Age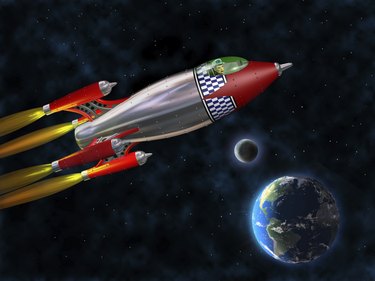 In the 1950s after World War II, thoughts turned toward rockets and outer space. With the Space Age in its infancy, this translated to dinnerware in the form of outer space designs. Noted designer George J. James created the Starburst pattern, which featured images that included a line-drawn star over a burst of blue or yellow. Some of these designs were also translated to crystal and flatware to create a coordinated dinnerware place setting.
Pastel Rainbow of Colors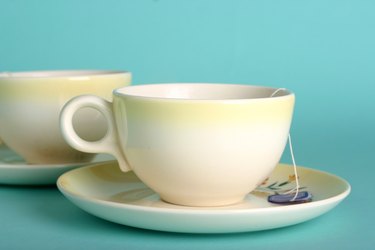 Many of the dinnerware from the 1950s, brand name and otherwise, often did not include any pattern at all. These plates came in pastel shades of blue, yellow and green or muted reds, peach, turquoise, purple and brown. Many of the melamine plates were often in solid colors, but some of these also contained patterns depicting flowers or nature-inspired themes.