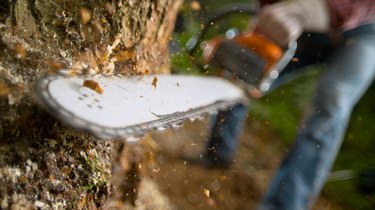 The McCulloch company is an industry leader in small engine equipment, including the Eager Beaver chainsaw, blower and trimmer lines. The company has even started manufacturing robot lawn mowers. Before choosing one of these products, it's critical to evaluate all specifications.
McCulloch Eager Beaver Chainsaw Specs: 3.7 Models
The Eager Beaver McCulloch chainsaw comes in two major categories: the 3.7 models and Super 16. The 3.7 includes model numbers 600133-02, 600133-03, 600133-04 and 600133-05. The displacement, which is the volume displaced by the piston, is 3.7 cubic inches for all of these models, which is where the line gets its name. They also have electric ignitions, one 16-inch guide bar and a 1.9-inch by 1.5-inch bore and stroke.
The clutch engagement has a speed of 2,800 to 3,000 RPM with an idle speed between 1,800 and 2,000 RPM. The oil tank has a 14.6-ounce capacity, and the fuel tank can hold 17.3 ounces. The lamination gap is between .011 and .015 inches, and the Eager Beaver gas chainsaw has 26 BTDC timing and a .025 spark plug gap. It has needle and ball bearings and weighs 14.7 pounds. Given that chainsaws are very complex machines, there are other specifications too.
McCulloch Eager Beaver Chainsaw Specs: Super 16 Models
The Super 16 Eager Beaver chainsaws include model numbers 600124-04, 6001204-06 and 600124-09. All of these models come with a solid-state electric ignition with cast iron compression piston rings. They have a 2.0 cubic inch displacement with a third port piston timed intake system, which is a bit less displacement than the 3.7 models. The bore and stroke are 1.430 by 1.201 inches.
The clutch engagement has a speed of 3,800 to 4,200 RPM, meaning that it moves significantly faster than the 3.7 chainsaws. The idle speed is between 2,700 and 2,900 RPM. The fuel tank can hold 10.8 ounces, and the oil tank has a capacity of 3.2 ounces. They have diaphragm-type, two-needle carburetors with needle bearings, and these chainsaws weigh 10.1 pounds. If you're looking to buy a McCulloch Eager Beaver 2.0 CID chainsaw, several options are available, including the 2.1, 2.3, 3.4, 3.7, 200 series, 2100 AV series and Super 2300 AV series.
McCulloch Eager Beaver Trimmer Specs
McCulloch Eager Beaver trimmers come in two model groups, the 282 and 287, and they have a lot in common. The 282 model numbers include 400128-05 and 400128-47, and the 287 model numbers are 400128-10, 400128-28, 400128-48 and 400128-52. The 282 models have a 28cc direct-drive engine, D handle and a 44-inch shaft, and they weigh 9.9 pounds with empty fuel tanks and lines. They have a maximum RPM of between 7,000 and 8,000 (as do the 287s) and an idling RPM of between 3,000 and 3,500.
In contrast, the 287 models have a clutch engine, D and J handles and a 48-inch shaft, and they weigh 13.6 pounds without fuel. They have the same maximum RPM as the 282s and idle between 2,700 and 3,000 RPMs. All of these blower models have very similar engines. They all have electric, single-chrome cylinder, air-cooled engines. They have the same fuel tanks with a 24-ounce capacity, type 3.5 46-inch nylon starter cords, a diaphragm with primer carburetor and Champion spark plugs.