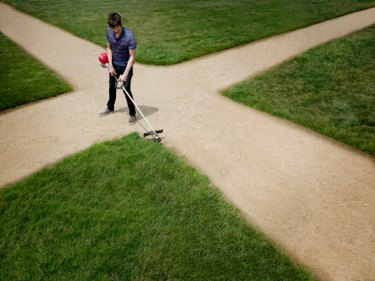 A pristinely manicured lawn and landscaping not only ornaments a property but can add value and much deserved respect. The right look beautifies, even transforms, a home or business and can be the difference between selling or not selling a property.
Landscaping requires a valiant effort, hours of labor and most of all, the proper equipment. Having the right tools can simplify a difficult task, making completing it much faster and easier. Many turn to McCulloch's Eager Beaver line of power equipment to achieve their goals.
Trimmers
Mcculloch's Eager Beaver trimmers are the 282 (model numbers 400128-05 and 400128-47) and the 287 (model numbers 400128-10, 400128-28, 400128-48 and 400128-52).
The 282 features a 28cc direct drive engine, 44-inch shaft, D handle and is 9.9 lbs. of dry weight while the 287 has a clutch with a 48-inch shaft, D and J handles and weighs 13.6 lbs.
Both have air-cooled, two-cycle, single chrome cylinder, electric engines that idle at 3,000 to 3,500 rpm for the 282 and 2,700 to 3,000 rpm for the 287 with a maximum rpm of 7,000 to 8,000 for both. With Champion spark plugs, a 24-ounce (71 ml) fuel tank capacity, diaphragm with primer carburetor and 46 inch long, Type 3.5 nylon starter cord, the Eager Beaver trimmer makes for a good lawn and gardening tool.
Chainsaws
The Eager Beaver chainsaws are available in 2.0 CID, 2.1, 2.3, 3.4, 3.7, 2000 Series, 2100 AV Series and Super 2300 AV Series.
The 3.7 (model numbers 600133-02, 600133-03, 600133-04 and 600133-05) are 3.7 cubic inches with a 16-inch guide bar and electric ignition with a 1.9-inch by 1.5-inch bore and stroke. Its lamination gap is .011 inches to .015 inches and it features 26 BTDC timing, .025 spark plug gap and 17.3 ounce fuel tank capacity for regular or unleaded gasoline. It has a clutch engagement speed of 2,800 to 3,000 rpm and an idle speed of 1,800 to 2,000 rpm as well as a 14.6-ounce oil tank capacity and needle and ball bearings. The power unit on the 3.7 weighs 14.7 pounds.
The Eager Beaver Super 16 (Model numbers 600124-04, 600124-06 and 600124-09) has a 2.0 cubic inch displacement, 3rd port piston timed intake system with a 1.430-inch by 1.201-inch bore and stroke and needle bearings. It features a 10.8 ounce fuel capacity, 3.2 ounce oil capacity and diaphragm type 2-needle carburetor. The clutch engaging speed is 3,800 to 4,200 rpm with a 2,700 to 2,900 rpm idle speed and is a solid state electronic ignition with two cast iron compression piston rings. The power unit of the Super 16 weighs 10.1 pounds.
Blowers
The Eager Beaver blowers are available in the III (Model number 400048-05) and IV (Model number 400048-06) and feature a two-cycle, single aluminum cylinder engine with a 21.2cc displacement, electronic ignition, large volume muffler and all-position diaphragm carburetor. The blower has a 14.6-fluid-ounce fuel capacity with a 35-to-40-minute run time, molded felt air filter, 400 cfm air volume and 140 mph air velocity and houses a six-blade, 7,000 rpm centrifugal fan impeller, two-section 34 3/4-inch-long, 4 1/2-inch diameter vacuum tubes and 25 1/2-inch blower tubes. It has a 11.2-pound dry weight and uses 40:1 two-cycle oil.
Summary
McCulloch has a reputation as a pioneer in lawn and garden power equipment since 1944. Their chainsaws, trimmers, blowers and pressure washers make outdoor tasks easier and more efficient.