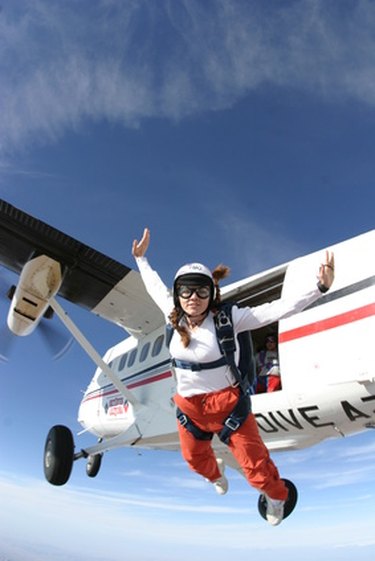 If you and your bachelorette party guests are underage — or just not into drinking yourselves silly to have a good time — there are plenty of other activities you can do to celebrate. Whether you choose ultimate relaxation or wild exhilaration, you won't need alcohol to have a better time. You and your friends could even raise some money for charity with a sponsored parachute jump, giving yourselves priceless memories while helping those less fortunate.
Physical Fun
Ice skating, roller skating, mini-golf, bowling, go-cart racing, bungee jumping or a visit to an amusement park are fun activities for groups of friends. Kick your bachelorette party off early and do one of these in the afternoon.
A Show
Arrange tickets for a concert, Broadway show (or local equivalent), a play or other theater feature. Interactive events, such as mystery dinner theaters, can't fail to entertain when you become part of the action. "Tony and Tina's Wedding" is an example of a popular interactive entertainment show, where you and your friends join in with the wedding ceremony and reception as wedding guests.
Health and Beauty Spa
A great way to get you and your girls feeling beautiful for the big day is some time at a health and beauty spa. Body wraps all around will shave the last couple of millimeters off waistlines to ensure you all look great in your wedding day dresses. And manicures, pedicures and facials will have you all looking your best for the big day.
Tattoo Parlor
Definitely don't drink if you intend to make this part of your bachelorette party experience, or you could end up with an awful mistake instead of that cute little shoulder butterfly you've always fancied. Also, discuss it with your fiance first, or you might find yourself jilted before you make it to the wedding ceremony. However, if you and your friends have talked about it and you just need a push in the right direction, what better time to bond over this painful, but ritually significant, experience. Party goers who don't want a tattoo can hold hands --- or make cruel and unhelpful comments as they see fit.
Dinner at a Posh Restaurant
After your chosen activity, if it's local and finishes early, you can all head back to your place to get changed for a sophisticated meal at a posh restaurant. You'll all enjoy laughing about your earlier exploits and won't need alcohol to get the conversation flowing. More amusing banter can be stimulated by a game. One of the guests needs to question the groom-to-be secretly before the party. Ask him about his favorite things, most embarrassing secrets, childhood memories and about his relationship with your friend. Quiz the bachelorette at the meal, and have fun comparing their answers; more intimate questions will usually prompt the funniest answers.