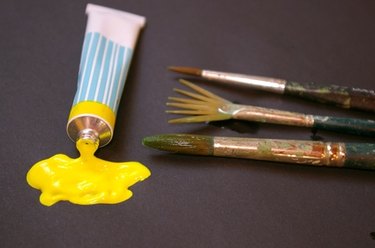 Many senior citizens lead healthy lifestyles that allow them to partake in a variety of fun activities such as outdoor adventures, sports and travel. Likewise, art projects are good activities for seniors, as they invoke creativity and inspiration. Some art projects may even have beneficial health effects, as well. If you are looking for art project ideas for senior citizens, consider painting, sculpting, scrap-booking or mosaics.
Family Portrait
Painting a family portrait from the image of a photograph is an art project that will lift the spirits, enhance skill, and relax the artist. Have the painter place a photograph of a family member in front of him and try to duplicate it through painting. They should be sure to include identifying characteristics like a favorite sweater or uniform the family member wears often. If they are more skilled at painting, they may paint the portrait against a backdrop like a beach or park. After the artist has completed her painting, have her explain who the family members are and any significance to the painting.
Sculpting
Seniors can create unique objects using polymer clay, which is ideal for exercising sore hands and fingers. Use polymer clay to craft birds, houses, or butterflies, for example, for a fun and creative activity. If you are leading a class, it may be best to choose a single project for the class to create using the clay. If you are only teaching two or three people, allow them to choose their own project for creation.
Scrapbooking
Scrapbooking is a fun way to revisit past memories, as well as indulge one's creative side. Have your seniors collect photos of themselves, family and friends to include in the scrapbook. Scrapbooks make use of different colored paper, as well as designs, and are a creative way to organize one's photos and tell stories. Have your group organize their photos however they'd like, whether it be by milestone, family members, or activities and begin to decorate their scrapbook as they please.
Mosaics
The art of mosaics can range from simple to more complex, depending on the types of materials used and how. The art form is very relaxing. For simple mosaics, place different colored beads or paper on the table and allow the seniors to create whatever image they imagine by gluing the objects to paper. More complex mosaic creations will require mosaic tile. To make this easier, use mosaic kits, which will come with the necessary materials.