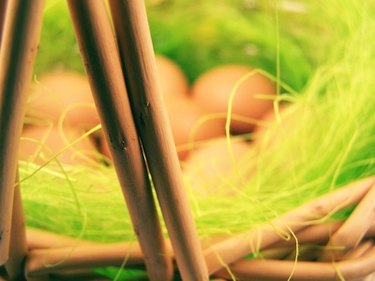 Some employees and business owners find that creating holiday gifts and office celebration items boosts morale and makes employees and coworkers feel more valued. Vendors and business associates may also find positive value in creating holiday appreciation items for office distribution. When made to celebrate the Christian holiday of Easter, an office Easter basket may include a variety of items that convey your best wishes and appreciation.
Food
Easter-themed cookies or candies can be used to fill a basket quickly and efficiently. Many stores carry a wide selection of decorated, seasonal treats while a quick trip down the snack aisle may provide you lots of variety for the basket.
For a healthier approach, limit your shopping to the produce aisle. Raw vegetables, fruits and nuts are tasty treats with less emphasis on sugar. Single-serving packages of nuts may offer a more financially practical approach than large containers of nuts, but fruit and vegetable trays can be given as a gift to the office at large.
You might also consider filling up baskets with sandwiches, deviled or hardboiled Easter eggs or other lunch fare. Send a list of possible options around to your coworkers or employees to determine the most appealing option.
Gift Certificates
Support local businesses and service personnel by collecting a variety of gift certificates for personal services. Nail care, massages, spa treatments, dry cleaning and car wash gift certificates may provide a variety of services your staff already uses, but they will appreciate doing it with your money rather than theirs. Suppliers often offer certificates in a variety of dollar amounts, so you can choose the dollar amount that fits your budget best. Some suppliers may even offer you a discount for bulk purchases if you ask.
Free Tickets
If your town has a drama group, comedy club, music house or other performance group, stock your baskets with tickets to local performances. Some organizations will allow you to purchase bulk tickets at a discount and you may find that your coworkers enjoy attending a performance as a group.
Local sports and recreation centers may also provide you with options for tickets. Try to provide a range of activities. Not everyone will want to spend the day at an amusement park or watch a baseball game. Consider that employees may have families and that tickets for two may be more useful than individual tickets.
Themed Items
Include whimsically themed office supplies in your basket. Sticky notes, pencils and notebooks with an Easter or spring theme often seasonally adorn the shelves of area office supply stores and big box vendors. Allow your office staff to pick and choose the items that suit them best.
Cash
Passing out individual envelopes containing cash or gift cards allows your employees to determine how they spend the dollar amounts allotted for a celebration. Individual employees will have different needs and the gift of spendable funds may be more appreciated. If your fiscal year ends around the first of the year, the envelopes might include bonus checks or other profit-sharing items.