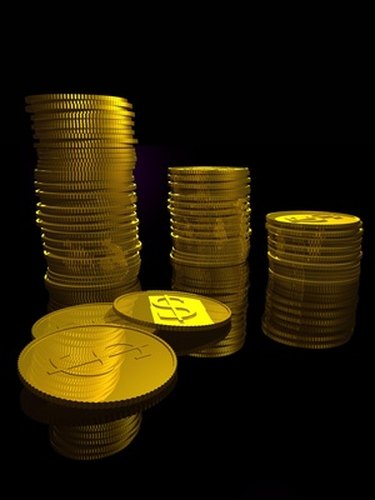 Gold is always an attention-grabbing color, especially when wearing gold from head to toe for a costume party or Halloween. Put together your own gold costume or browse online and in Halloween stores for gold outfits and accessories. Spray paint items gold if needed, and don't forget to cover yourself in gold glitter.
Classic Elvis
Browse Internet costume sites for gold lamé Elvis costumes. Costumes generally include gold satin pants and jacket with contrasting gold trim and sequins on the collar. Coat pockets and sleeve cuffs are also sequined and contrasting gold sequin strips are featured on the sides of each pant leg. Wear a black dress shirt underneath, and purchase a black Elvis wig or dye and style your own hair. Carry a microphone, which you can spray paint with gold if desired.
Gold Digger
Wear a gold dress (length and style is up to you) and gold platform boots or high heels. Dust gold eyeshadow on your lids, mix gold glitter into your lipstick and apply gold glitter on the body as desired. False gold eyelashes and gold nail polish are also options. Carry a gold shovel (spray paint a plain shovel if necessary) and a drawstring bag of gold nuggets, coins or stones. Spray paint a gold mining cap to complete the ensemble.
Fairy
Purchase gold dragonfly wings to highlight a fairy costume. Look for pink and gold fairy costume dresses online or in costume shops, or modify a dress you already have. Wear gold accents, such as gold sandals, gold makeup and glitter, and gold hair extensions and hair accessories. Carry a gold wand or try wearing a gold mask. Wearing sheer gold tights with gold tinted heels or flats is also an option.
Hustler
Create a gold-trimmed hustler character with a gold satin jacket and matching gold satin pants. Wear a shimmering black shirt underneath and gold chains and a dollar sign necklaces. Wear black dress shoes and a gold hat with a black feather in it if desired. Add additional accessories like a black cane, dollar bill printed handkerchief and a gold wallet filled with fake bills and chocolate gold coins, which you can give to friends and family. Wear fake gold teeth if desired.