1 of 10
Like many classic American dishes, there are several regional interpretations of hot dogs, from classic presentations to creative ingredients that showcase ethnic influences on local cuisine. Some are synonymous with their cities, some have come about from burgeoning food truck and street food culture. Each is unique and delicious, and can easily be recreated at home or spotted when you're in town!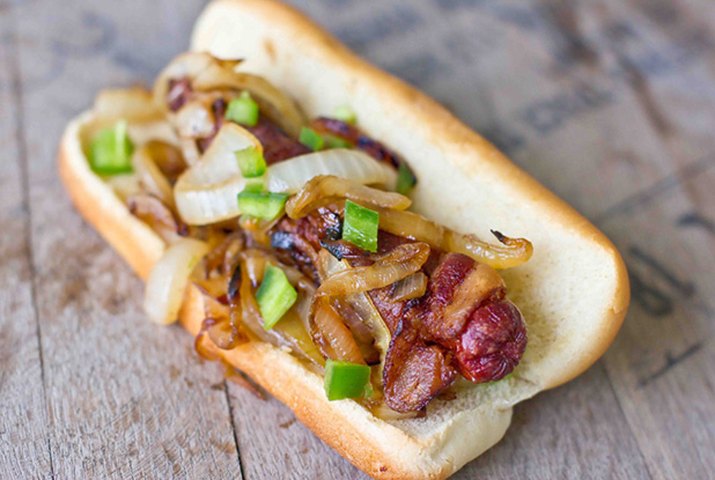 2 of 10
Once the thing of street cart lore due to a banned status in Los Angeles, the danger dog is wrapped in bacon and fried, then topped with grilled onions and chili sauce–or toppings like jalapeños, ketchup, mustard, mayonnaise, and grilled bell peppers.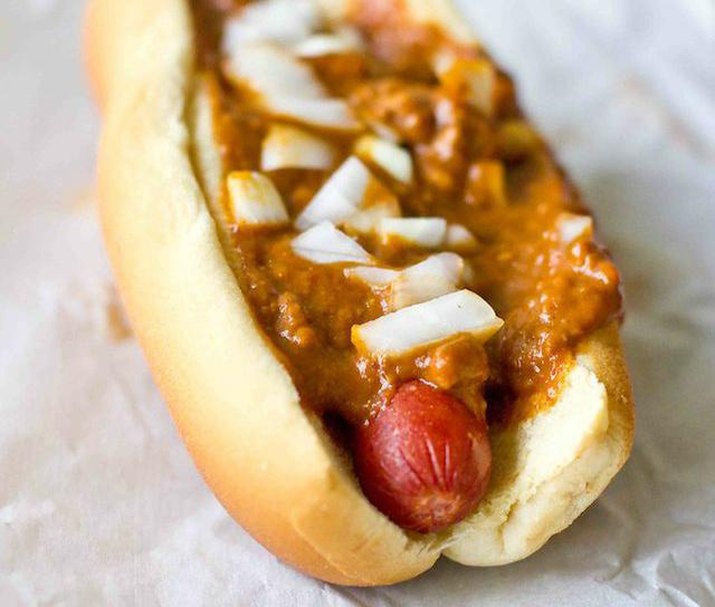 3 of 10
The Detroit Coney is a midwestern institution in and of itself. Top an all beef steamed hot dog with beanless chili and diced onions. Garnish with mustard and shredded cheddar cheese.
4 of 10
Generously slather a toasted bun with cream cheese and add a grilled frank topped with plenty of grilled onions to start your Seattle-Style hot dog. Additional toppings can include jalapeños, kraut, and even sometimes sriracha, barbecue sauce, or kimchi.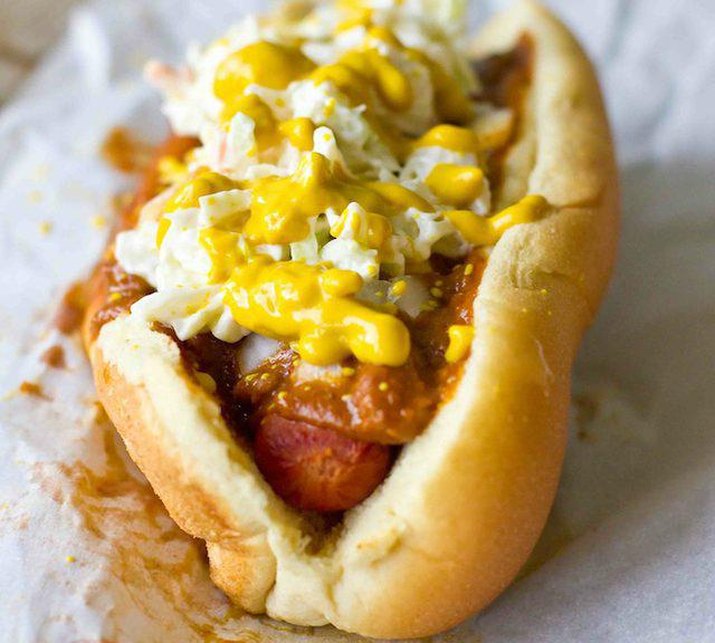 5 of 10
There are a number of southern slaw dogs, but the Carolina style slaw dog tops an all beef steamed dog and piles it high with beanless chili, slaw and mustard.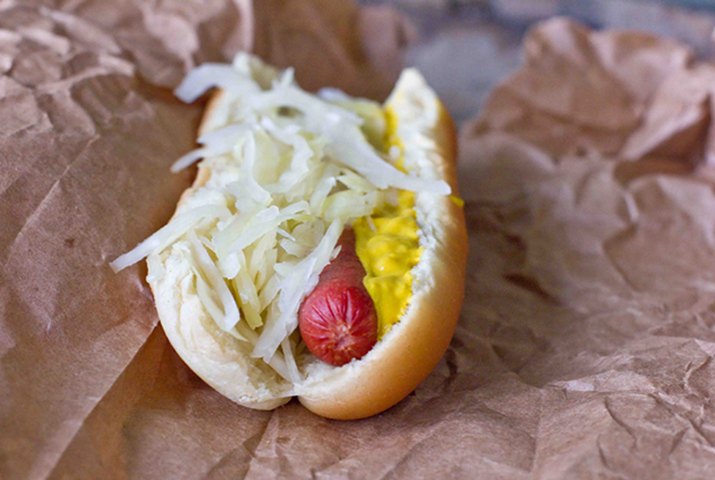 6 of 10
The classic New York street dog can be found all over Manhattan–from street carts to shops like Gray's Papaya. Steamed natural casing or kosher, these all beef dogs are loaded up with kraut and mustard.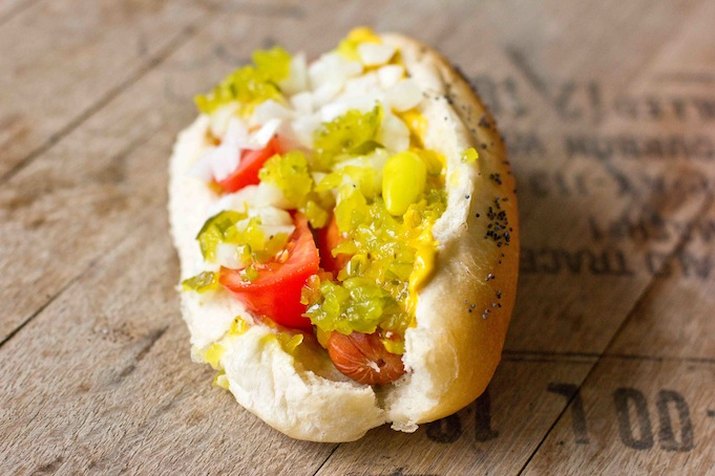 7 of 10
Chicago Dog "Through the Garden"
The Chicago dog is stuff of legend and full of flavor! Top a steamed all beef kosher style dog with yellow mustard, chopped white onions, sliced or wedged fresh tomatoes, a dill pickle spear, sweet pickle relish, pickled sport peppers and a dash of celery salt, served on a steamed poppy seed bun. Don't ask for ketchup with these dogs–many vendors infamously won't even provide it for fries.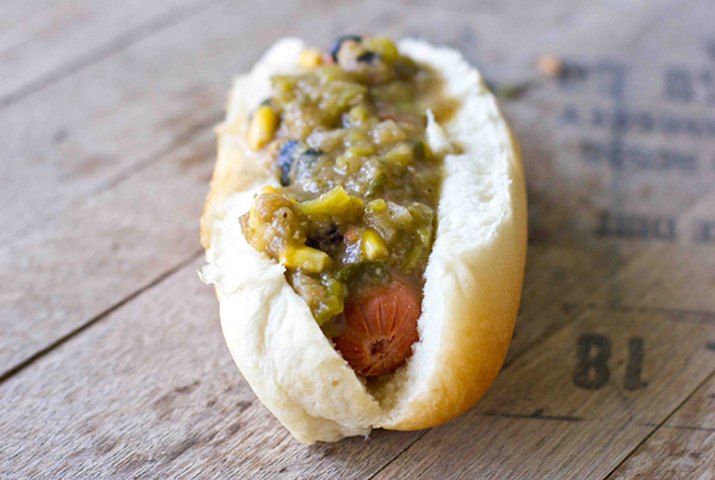 8 of 10
There is nothing more Denver than a hot dog from wild game (like buffalo or elk) and topped with green chili like you'll find at the Biker Jim's stand in downtown Denver.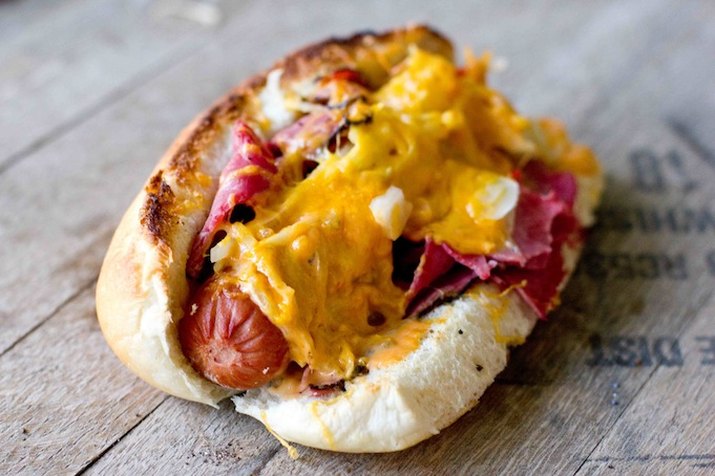 9 of 10
The Reuben style dog, as served at Kansas City Royals games, is an all beef dog topped with kraut, caraway seeds, plenty of thousand island dressing, and melted cheese. Take it to another level by adding pastrami and grilling it open face style under the broiler.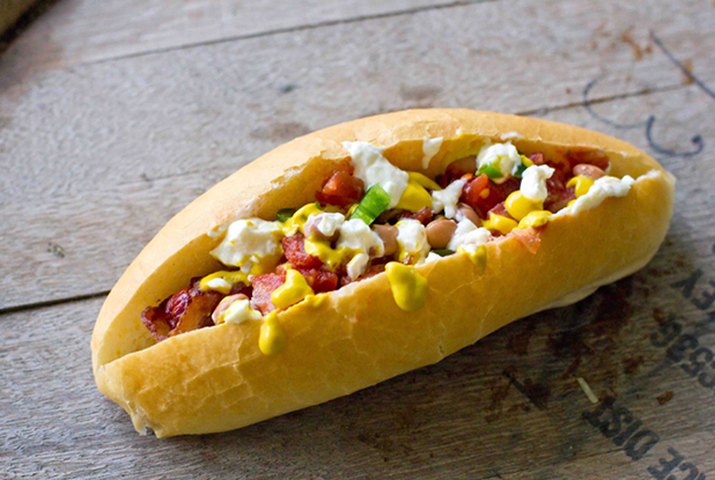 10 of 10
Arizona is home to the Sornoran dog, which is quite literally full of southwestern flavor. This hefty creation takes a fried, bacon-wrapped dog, and tops it with pinto beans, grilled onions, fresh onions, tomatoes, mayonnaise, cream sauce, mustard and Jalapeño salsa or sauce, all served on a large steamed bun.