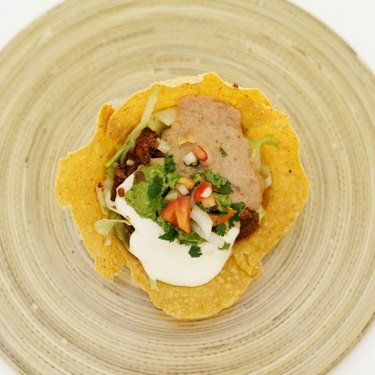 Crema fresca is a staple condiment in Mexican cuisine. It is typically served over tacos and enchiladas to cut the spice from the chilies and to add a creaminess to the dish. Some grocery stores carry crema fresca, but if yours does not, you can substitute more widely available ingredients, or make your own. Substitutes will not exactly replicate the flavor of crema fresca, but they will be delicious.
Sour Cream
Sour cream is the most common substitute for crema fresca. Most Americanized or Tex-Mex restaurants serve sour cream instead of crema fresca, because that is what their guests expect to be on top of Mexican dishes.
The tang of sour cream combined with the smoothness of the dairy provides a strong counterpoint to spicy foods, making them more accessible to a broad audience. Crema fresca is not as boldly flavored as sour cream, so substituting sour cream does change the character of the dish, but many people prefer the stronger tang.
Creme Fraiche
Creme fraiche is a close substitute for crema fresca. Creme fraiche originated in France, and you can buy it in gourmet grocery stores and online. Depending on where you live, your local grocery store may carry creme fraiche rather than crema fresca. You can substitute creme fraiche in any recipe calling for crema fresca, and the dish will turn out as you expect it to.
Heavy Cream
If your recipe calls for crema fresca to be added to a sauce as a thickener, you can substitute heavy cream. It is not quite as thick as crema fresca, and does not have the depth of flavor, but it will work to thicken the sauce.
If you want a slightly tangy flavor, add 1 teaspoon of lemon juice or vinegar to 1 cup of heavy cream and let it sit for five minutes before you add it to your sauce. This will sour the cream and thicken it to a similar consistency to crema fresca.
Make Your Own
Crema fresca is basically slightly soured cream. If you can't find a commercially produced version, making your own is simple -- it just takes some time. Combine 1 cup of heavy cream with 1 tablespoon of yogurt or buttermilk with active cultures. Let this sit out for 18 to 24 hours, or until it has thickened slightly and tastes mildly tangy. Refrigerate it for up to a week.
If you decide to make your own crema fresca, start with pasteurized, not ultra-pasteurized cream, and bring it to room temperature or warm it on the stove before adding the yogurt or buttermilk. This will help the cultures in the yogurt or buttermilk activate more quickly.