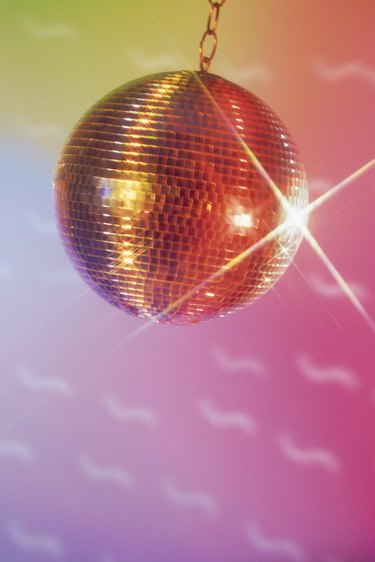 Many people watch the New Year's ball drop in Time Square each year. Counting down the last seconds of the old year as you watch a glittering ball drop adds an extra measure of fun to your New Year's Eve party. You can create an inexpensive drop ball and manually lower it instead of installing an expensive mechanized ball.
Lantern Ball
Spray glitter glue on the outside of a paper Japanese lantern and cover it with sparkling iridescent glitter. Take a short string of racing Christmas tree lights and twist them around inside the lantern to light your ball. Secure the plug at the end of the lights to a long extension cord and run the cord out from the bottom of the lantern. Suspend the ball from the ceiling with 30-pound monofilament line running through a screw eye. As you manually lower the ball by extending the length of the monofilament line, reel in the excess extension cord to keep it from entangling your guests.
Foil-Wrapped Ball
Cut foil Christmas wrapping paper into strips and glue them on an expanded polystyrene foam ball. Glue a button with a shank to the top of the ball and tie monofilament line to the shank. Suspend the ball from the ceiling using an eye screw with a pulley to control your monofilament line. Aim a spotlight at the ball for illumination. Lower the ball by manually extending the line while someone keeps the light aimed at the falling ball.
Reflective Ball
Punch a wooden bamboo skewer all the way through a 10-inch expanded polystyrene foam ball. Glue a small metal fender washer over both holes. Pass the end of a 25-foot length of 30-pound monofilament line through the hole and tie a large knot in the line below the ball, creating a knot larger than the washer hole. Tie another large knot on the top side of the ball above the washer. Use a C-shaped scaffolding to suspend the ball by the line in a loop controlled by four pulleys at each of the four 90-degree bends so the ball moves up and down by pulling on the line. Cut CDs into small pieces with a pair of craft scissors. Glue the pieces around the ball. Set a flood light with a rotating color filter in the bottom of the C frame to illuminate the ball.
Bejeweled Ball
Glue a shank button to an expanded polystyrene foam ball with the shank pointed up. Spray paint the ball silver. Glue small craft mirrors and acrylic jewels all around the ball after the paint dries. Tie a monofilament line to the button shank and suspend it from a screw eye screwed into the ceiling. Suspend a pulley in one corner of the room to control the ball drop and run the line through the pulley. Extend the line manually to drop the ball at midnight.