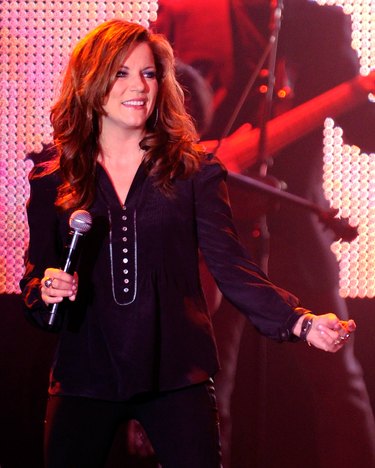 You don't need a killer video on CMT to dress like a female country superstar. The outfits worn by female country singers often span a wide range of styles: from rustic and feminine to sleek and sexy superstars. Whatever style you prefer, there are many tips that can have any fan dressing like her favorite female country star.
Tops
Female country singers look great in a variety of tops, which makes it easy for women to look like a star while wearing something comfortable. For a rustic, Bohemian look, opt for a classic plaid shirt or a light shirt with a dainty floral calico print. Other shirts with Southern flair, like a dark-colored button-up with embroidery around the pockets, make great tops for a country singer costume. Alternatively, slip into a form-fitting tunic or dress for a simple yet sexy look.
Pants
Denim has a classic country look that suits a variety of female country singers' styles. Achieve the look of a rustic country singer by wearing light destroyed denim pants or shorts with tears in the knees. A floral dress paired with leggings also has a simple look that is well-suited for a female country singer. Dark-colored skinny jeans have a sleek, sophisticated look that are appropriate for a country superstar and go well with a dressy shirt or tunic.
Accessories
Jazz up a country-inspired outfit with the right accessories. A turquoise bead necklace, a wooden bracelet and sterling silver earrings look lovely when worn with a simple, Bohemian outfit. Top the outfit off with a flower tucked behind an ear or a cowboy hat. For the look of a showy singer, stick with flashy costume jewelry, like dangling earrings and sparkling necklaces. Regardless of which style, no country singer's outfit is complete without a pair of boots, such as cowboy boots or riding boots.
Hair & Makeup
Once the outfit has been picked out, selecting the right hair and makeup help create the transformation to looking like a famous female country singer. Rather than an elaborate up-do, wear hair down and add a little product to create a tousled, wavy style. Makeup helps accentuate the selected style. For a simple look, add a little blush to the cheeks, some mascara to lengthen the eyelashes and a dab of lip color. Create a look that is ready for a loud country concert by wearing dark eyeliner, colorful eye shadow and bold lipstick.