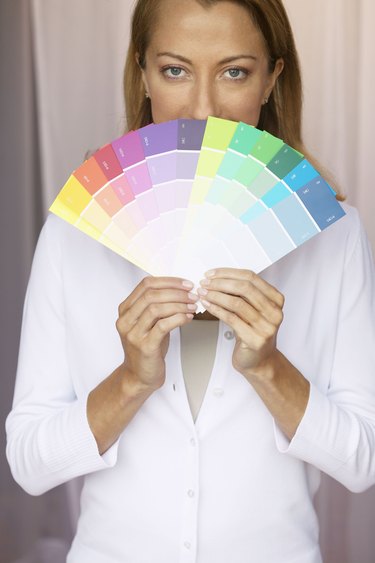 Oiled bronze is a softer metal finish than neutral bronze and has been emerging as a popular alternative to common stainless steel. Interior designers and manufacturers alike have been incorporating oiled bronze to warm up bath and kitchen decor. Depending on the manufacturer, the oiled bronze will have some variations; however, its main component is neutral, and its warm caramel and black hues make it easy to find the right color palette for a bathroom.
Fall Colors
The warmer side of the color wheel offers great color options for a bathroom with oiled bronze hardware. Fall colors such as russet and ochre go well with the soft radiance of the oil-rubbed bronze. For a bolder fall color palette, try a yellow-gold, amber or soft orange color scheme. Fall colors can be mixed and match, just as long as they are not overly intense and saturated.
Green
Green has many different shades, from soft to dark, that go well with oiled bronze in a bathroom. Darker greens that are found in nature, such as mossy or forest green, pick up the subtle shine of oil bronzes that have a bit of green in their patina (coating). To avoid making the bathroom too dark, consider an accent wall near where the oiled bronze hardware is found, and use neutral beige or a lighter green hue on the other walls to lighten up the space. A light neutral green, such as a light yellow-green or light mint, with a touch of gray complements the cooler, gunmetal finishes of oiled bronze.
Purples and Burgundies
Purple and burgundy shades work best with gold tone oiled bronzes, but they also bring out the green in the patina. Bold burgundies in deep shades of wine and mahogany are ideal for oiled bronzes with brown, reddish or gold finishes. Dark purples can be used as a full-room treatment or an accent wall. Incorporate lavender to keep with the color theme, or use ivory to brighten up the space.
Warm Neutrals
Natural warm hues, such as beige and taupe, infused with just the right amount of yellow pick up the warmth often found in oiled bronze finishes. One thing to consider is the flexibility of the neutral color. A light warm neutral is more likely to be compatible with the overall decor of the bathroom, while a darker neutral can be oppressive and limiting.