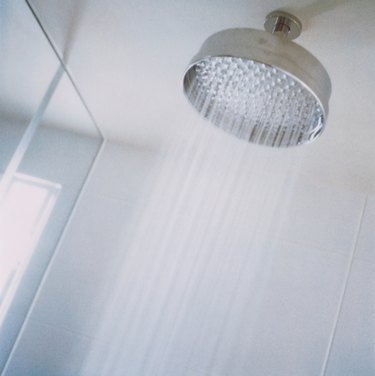 Acrylic and fiberglass shower stalls are made from molded plastic. Although acrylic showers contain fiberglass, they're made by a different process that makes them more durable than fiberglass shower stalls. While more scratch-resistant than fiberglass, acrylic shower stalls can be scratched. The finish on both types of plastic isn't as hard as that found on porcelain tubs. Fortunately, scratches can be repaired.
Care
Most scratches occur because people use harsh cleaners. Don't use abrasive scouring powders to clean your plastic shower stall because they act like sandpaper and scratch the surface of the plastic. Use a mild dish soap, ammonia based glass cleaners, a paste made from baking soda and water, or a vinegar and water solution instead. Clean frequently. Don't wait for a heavy buildup of soap or minerals to appear because you'll have to scrub harder to remove the dirt, and you'll be more likely to leave scratches. Don't use scouring pads. Use sponges made from nylon, polyester or polyethylene instead.
Acrylic Repair
Remove light scratches in acrylic with a liquid polisher. Use very fine sandpaper (1,500-grit) to remove deep scratches. Use a circular motion and avoid additional scratches by using a little water while you're sanding. Buff the surface when you're done, using a soft cloth and a liquid polish.
Fiberglass Repair
Use a water based automotive white polishing compound to remove scratches from a fiberglass shower stall. Use a soft cloth and a circular motion to apply the compound. When you're done, use a clean cloth to apply a light coating of automotive white cream wax and buff the surface. This should be done twice a year.
Refinishing
If your fiberglass or acrylic shower stall is badly damaged, it can be refinished. The process takes about four to six hours, if done by a professional. Expect it to take longer if you're doing it yourself. The tub needs to be thoroughly cleaned to remove dirt prior to sanding. Sanding the shower stall creates a good surface that will bond with the primer. Use a palm sander to achieve a more even surface. Repair chips and cracks before applying two coats of primer and two coats of acrylic polymer with a gloss finish. Wait 30 minutes between each coat so the paint has a chance to dry. Your shower stall will need 24 to 48 hours to cure before you use it.
Tips
Repair leaky faucets because dripping water can wear away the surface of your shower stall. Don't leave bath mats with suction cups on the floor of your shower stall because the trapped water will damage the finish. You can wax your shower stall with a urethane polish to keep it looking glossy, but don't wax the floor of the stall.