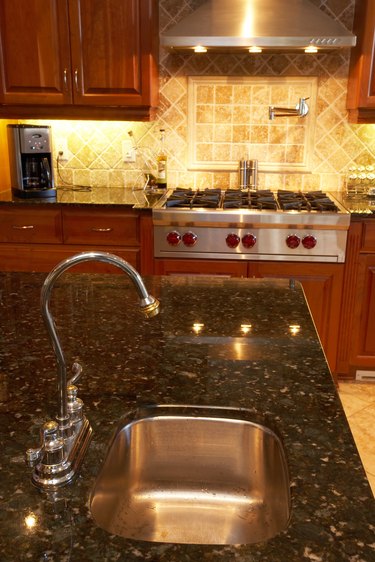 Uba Tuba granite is typically black or dark green in appearance, with gray, white and other light colors that swirl across its surface. Because of its bold look, it may be difficult to select backsplash materials to pair with an Uba Tub countertop. However, you can choose from several different options, depending on how subtle or bold a look you prefer. Keep the size of your kitchen and the amount of light it receives in mind when deciding on backsplash materials.
Granite
For a sleek, streamlined look, pair your Uba Tuba granite countertop with a backsplash made from a matching granite slab. Using the same materials for the countertop and backsplash provides a monochromatic look, so you can design a simple, modern color palette for your kitchen that relies on only a few shades. However, using a dark granite, like Uba Tuba, on your walls and countertops may close in your kitchen or give it a dreary feel, particularly if it is a smaller space. If you want to use the granite for both surfaces, balance it with light-colored cabinets and adequate overhead lighting.
Rajah Slate
Creating a contrast between the dark color of Uba Tuba granite countertops and your backsplash can bring in a striking look for your kitchen. Rajah slate tile is an ideal material for this type of look because the slate not only provides a contrasting color but a contrasting texture as well. Originating in India, Rajah slate is multicolored, so you can find tile with a neutral base of light brown or gray to contrast with the rich dark green or black color of the granite. However, the slate may also contain subtle swirls of green and gray, which pick up similar tones in the countertop. The rough texture of Rajah slate also contrasts with the smooth, polished surface of Uba Tuba granite to provide added dimension to your kitchen.
Travertine
If you prefer a subtle look for your backsplash that allows the rich color of your Uba Tuba granite countertops to stand out, travertine tile is an excellent option. Travertine comes in a wide range of neutral shades, such as beige, ivory, tan, gold and walnut, which all work well with the dark colors of the granite counters. To give your travertine backsplash a more decorative look, set the tile on a diagonal to create a subtle, patterned look. You can also use accent tiles in a second shade to add visual interest to your walls.
Ceramic
If you are concerned that the dark color of the Uba Tuba countertop will give your kitchen a gloomy look, use ceramic tile in a light color for your backsplash. White tile can provide a stark contrast with the granite for a clean, bright look. However, dove-gray ceramic tile may pick up similar tones in the granite for a complementary look. If your Uba Tuba counters lean toward green, try a light green tile for the backsplash to create a unified look for your kitchen.