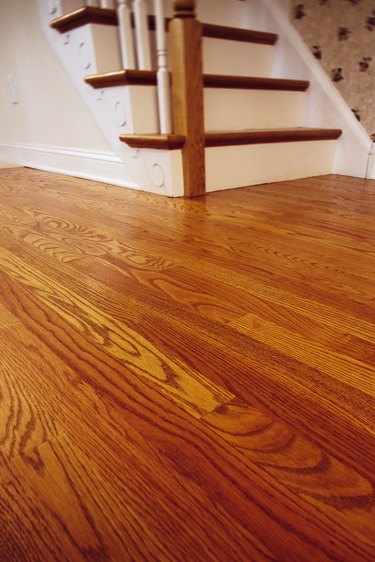 Hardwood flooring gives homes a timeless look of warmth and homeyness. It comes in a variety of plank sizes, grains and colors to go with any type of decorating style. Hardwood floors are durable and can be refinished to look like new. A look at the difference between oak versus maple versus cherry gives homeowners an idea of the factors involved in choosing material for their hardwood floors.
About Hardwood Flooring
Hardwood floors not only look attractive, they offer sound insulation, warmth underfoot and easy maintenance. Flooring can be made from a wide variety of woods, each offering unique grain appearance and durability. Researching the characteristics of different types of wood will help you to determine which one has the right attributes for your needs. Excess water can damage hardwood flooring, and sunlight can fade the rich colors.
Oak Wood Floors
Oak is a popular choice for home flooring because of its natural durability, attractive grain and rich coloring. Though most people imagine a golden color when thinking of oak floors, oak comes in a wide variety of tones, from pale tan to rich brown, with reddish tones in between. Oak tends to darken with age, so keep this in mind when choosing colors. Both red and white oak are dense materials with good shock absorption and they resist splitting. White oak has a yellowish tone that is not always desirable. Red oak has a pinkish tone.
Maple Wood Floors
Maple is another choice in hardwood flooring that provides durability with good appearance. Maple is resistant to abrasions, hard and does not sliver or splinter easily. It is a subtle texture that fits in with many decors, with a variety of grain styles and wood tones, even very pale beiges that can't be found in oak woods.
Cherry Wood Floors
Cherry is a softer wood than either oak or maple. Nevertheless, it is a popular choice for hardwood flooring because of the smooth finish that the fine grain produces. Cherry has a natural reddish glow that comes in rich, dark tones and lighter golden-reds. Cherry flooring gives rooms an elegant look that goes with both modern and traditional furniture and decor. It is a heavy, rigid material that produces a dark, rich finish with age. Cherry must be protected from damage from heavy objects and excessive moisture. Cherry tones can fade in constant sunlight and should only be used in curtained areas of the house.