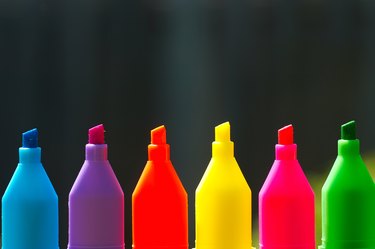 Permanent markers come in handy when you want to leave a lasting ink impression on a smooth surface. One of the most popular brands of permanent markers, the Sharpie, is widely used around the world and is easily identified by its trademarked name.
Although Sharpies are referred to as permanent markers and contain a water-resistant chemical that makes them permanent in ordinary use, the ink can typically be removed with a little effort.
History
The Sharpie black marker was introduced to the world in 1964, while color Sharpies hit the market in 1979. The Sharpie was the first permanent pen-type marker advertised to write on almost any smooth surface; its early celebrity endorsers included Johnny Carson and Jack Parr.
Ingredients
While most washable inks are water based and designed to break down easily, Sharpies use water-insoluble ink that contains Permachrome, a pigment used in ink for ink-jet printers, and xylene and toluene as binding agents to give the ink longevity. Xylene is a clear solvent used in paints and varnishes, and toluene is typically found in crude oil and gasoline. The chemicals are relatively safe in the small amounts used in Sharpie markers but can be toxic if inhaled in larger amounts.
Uses
Permanent markers are ideal for writing on a variety of surfaces, such as paper, metal, plastic and stone. They are also used in laboratories for labeling microscope slides and for marking bacteria samples, because the ink stains the background and not the bacteria.
Removal
While permanent markers are convenient, ink sometimes stains surfaces where you don't want it. Most types of permanent marker can be removed by using a non-acetone nail polish remover (remover with acetone may damage the surface), rubbing alcohol, hairspray or baking soda. Apply one of these compounds with a clean cloth and press it in to remove the stain.