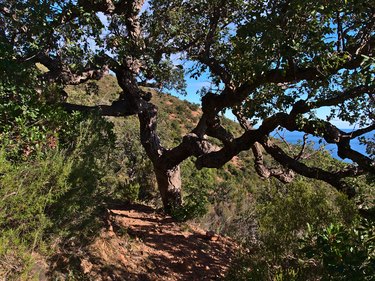 While all oak trees (Quercus spp.) yield fruit known as acorns, the biggest acorns of all are produced by a species known as the bur oak (Quercus macrocarpa). Unlike other types of acorns, the large acorns of the bur oak have a thick, hairy cap that covers more than half of the acorn and gives the species its name. Native to North America, the bur oak grows in U.S. Department of Agriculture zones 3 to 8.
Acorns are a feature of oak trees, of which there are some 500 species all over the world. Approximately 60 of those species occur in North America. Some species of oak trees are deciduous, meaning they lose their leaves in the fall, while others are evergreen and keep their leaves year-round.
The acorns produced by oak trees are considered a type of nut, and they are an important source of food for many different types of wild animals. Acorns all have a cap. They vary not only in size but also in their shape and color.
It is often possible to identify what species of oak tree an acorn came from just by looking at the acorn's characteristics. Some are football-shaped, while others are more bowllike. You'll find acorns that are such a dark brown that they look black, while others are a lighter orange-brown color.
Bur Oak Tree Characteristics
Bur oak trees are massive; they are usually 60 to 80 feet tall with a spread of the same width. Because of their size, they make excellent shade trees. They tend to grow in a rounded habit. These trees are capable of living for 200 or 300 years. Bur oaks are also low maintenance and capable of growing in many different types of soil, including clay soils and soils of varying pH.
The range of the bur oak tree includes parts of the northern and central United States and extends into southern Canada. Also known as mossycup oaks, the bur oak trees belong to a group of oaks known as white oaks, which are distinguished from the red oaks group in part by the rounded end of their leaves. Bur oak trees are deciduous. They grow best in full sun and appreciate moisture, but they can handle dry conditions.
The large acorns of the bur oak may be an inch and a half in length. More than half of the acorn is covered by the mossy cap that distinguishes this species. As is the case with other trees in the white oaks group, the acorns of the bur oak mature from August to November of the year that they are formed. Not only are the bur oak's acorns larger but these trees also produce more acorns than others. It may take up to 35 years for a bur oak tree to produce its first crop of acorns, however.
Many wild animals eat the acorns of the bur oak, including rodents, like mice and squirrels, as well as other mammal species, like white-tailed deer. Birds, including wild ducks and turkeys, also consume the acorns of the bur oak. Animals also help to disseminate acorns, which then germinate.