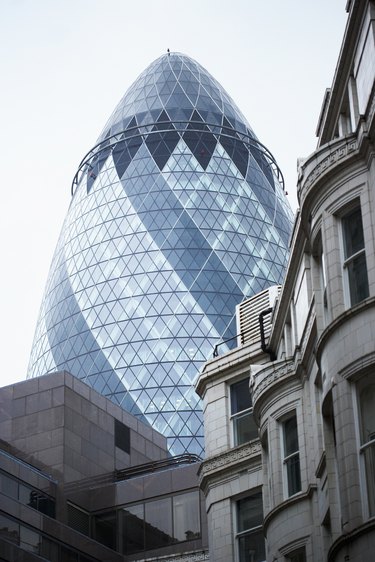 Following the modernist style that dominated the 20th century, many architectural styles emerged around the turn of the 21st century. A number of these styles were reactions to modernism; others sought to incorporate ideas from visual art and philosophy.
Modernism
Given the difficulty of defining and containing the term "modernist architecture," the scope of the buildings included under this designation is unclear. Modernism is broadly characterized by its simplicity, its removal of ornament and its historical context within the general urbanization and industrialization of civilizations across the globe. This style is still widely used today, especially for the design of corporate office space. Examples include the Toronto-Dominion Centre in Toronto and the IBM Plaza in Chicago, both by Ludwig Mies van der Rohe.
Postmodernism
Postmodernism is a response to modernism -- in architecture, the style tends to replace the "mechanic" or simplistic forms of modernism with ornamental or historically referent forms. For example, whereas many modernist buildings are given flat, rectilinear roof lines, many postmodern buildings return to the gabled, or sloped, roofs of the styles that predated modernism. The Bank of America Center in Houston by John Burgee and Philip Johnson exemplifies the postmodern style.
Blobitecture
Blobitecture (or Blob Architecture) uses curves, rounded forms and organic movement to emulate forms found in nature. Spherical buildings, amoebic buildings and domes generally fall under this category. Aqua in Chicago, an 86-story skyscraper completed in 2009 and designed by Jeanne Gang, provides one example; it is the tallest building ever designed by a woman architect.
Critical Regionalism
As a reaction to modernism, Critical Regionalism critiques the universality of the international style of modernism. Critical Regionalism incorporates elements of the natural landscape or of local culture into a building's architecture instead of advancing globalized characteristics of one type of architecture. The Sydney Opera House in Sydney, designed by Danish architect Jørn Utzon, is a classic example; it received recognition as a UNESCO World Heritage Site in 2007.
Deconstructivism
A branch of postmodernism, deconstructivism seeks to remove the rectilinear, segmented and tightly controlled elements of modernism. Instead, deconstructivism employs chaotic forms, disjointed elements and random angles. It is heavily influenced by cubism. The Guggenheim Museum Bilbao in Bilbao, Spain, designed by Frank Gehry, provides a notable example of this style.
Structural Expressionism (also "High-tech Architecture")
The most prominent characteristic of Structural Expressionist buildings is their oblique form. This style places emphasis on the structure or physical support system of a building. Instead of hiding structural features, such as beams and supports, Structural Expressionist architects place them in obvious positions and even add extra structural components. This style is sometimes characterized as a form of modernism. An example is The John Hancock Center in Chicago by Bruce Graham and Fazlur Khan.