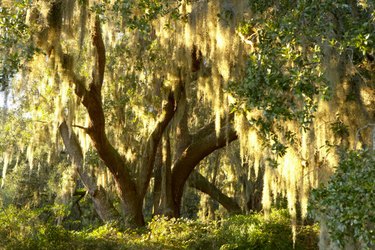 Willow trees produce long, flexible branches, which give the tree its characteristic weeping appearance. Other types of willow produce strong, curly branches. Because they are so thin, supple and strong, these branches can be used in several different crafts. Straight branches can be used to weave many different items, while larger curly branches can be made into home accents or used in floral arrangements.
Straight Willow Branch Weaving
Straight willow branches are a great natural medium for woven projects. They lend a woodsy or earthy appearance to whatever you make with them. Things such as vases, mats, chairs, baskets and many other decorative or useful items can be woven from willow branches. Each willow weaving project requires several branches, stripped of their leaves. You also need a different pattern for each project. You can copy other weaving patterns, create your own or take a special willow weaving class to learn the basics of this craft.
Curly Willow Branch Crafts
Curly willow branches curl or wave in interesting patterns. They are strong and stiff, but can be soaked in order to make them flexible so you can bend them into many shapes. Use curly willow branches as picture frames by tying or gluing several branches together. Use a willow branch to hang decorative items from, or string many together with other natural objects or photos for a special mobile. You can also use fresh or dried curly willow branches as accents in floral arrangements.