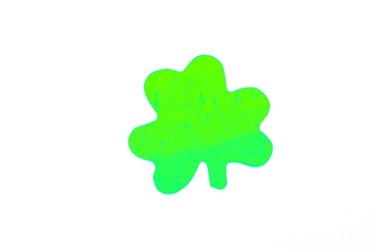 Senior citizens have celebrated many St. Patrick's Days and can offer suggestions and past traditions for crafts to celebrate the day. Folklore and legends about St. Patrick abound and provide a wide range of ideas to choose from. Everyone is a little Irish on March 17, so don a green tophat and start crafting.
Shamrock
One legend has it that St. Patrick used a three-leaf clover to demonstrate the Christian concept of the Trinity. Wedge a shamrock cookie cutter into a potato to make a shamrock stamp. Release the potato and dip it in a mixture of water and green dye. Alternatively, paint shamrocks onto pottery or crochet a coaster in a shamrock design.
Celtic Cross
The Celtic cross is a cross with a circle around the two cross beams. Give seniors a choice on the material they want to use such as twigs, corn husk or wood. Corn husk is an appropriate choice for seniors because of its flexibility. Use two husks to design a cross and tie with husk material. Create a circle from the same material to place around the cross beams. Use glue to attach the circle.
Leprechaun
Make decorative leprechauns from corks. Paint the leprechauns onto the cork, use thimbles for tophats, and attach yarn with glue for a beard.
Irish Potato
An easy recipe for seniors is to make Irish potatoes with cream cheese, powered sugar and coconut, shape them into small potatoes and roll in cinnamon. .