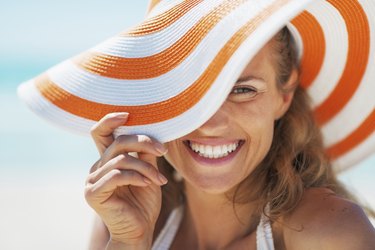 A big hat will make a statement look out of a sundress or doll up your favorite T-shirt on a lazy afternoon. But stuff it into your closet one too many times and you'll find your hat a bit lifeless, with the brim looking flat and floppy. Spray-on starch adds shape back to fabric, allowing you to mold the brim to suit your style.
Things You'll Need
Towel

Spray starch

Newspaper
Step 1
Roll a terry cloth towel into a cylinder and mold into a circle. The circle should roughly match the size of your hat's brim. Set aside.
Step 2
Place the hat on a flat sheet of newspaper, outside or in a well-ventilated area. Hold the can of spray starch 10 inches from the brim. Spray the exterior of the brim evenly, applying three coats.
Step 3
Allow the outside of the hat to dry for 10 seconds and flip the hat over. Hold the can 10 inches from the brim and evenly coat the interior three times.
Step 4
Flip the hat over right away. Place the rolled up towel underneath the brim. Gently mold the brim into the desired shape, as it will dry into the position that it is placed. Allow the hat to dry for an hour before wearing it.
Warning
Never apply spray starch to a felt-brimmed hat, as it will permanently damage the fabric.