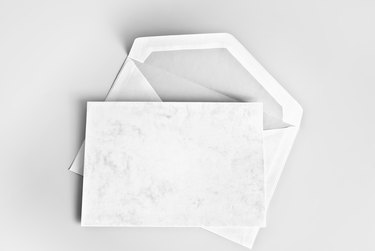 Even though the invitations have been sent, sometimes a planned event must be cancelled in advance due to unforeseen circumstances. While it is not the most pleasant type of communication to send out to invitees, informing them as soon as possible allows them ample time to rearrange their social calendar as necessary. Official notices of cancellation or postponement should be issued to all invited guests whether they have responded to the invitation or not. If the original invitation included information about a gift registry, also send notice of cancellation to invited guests who have expressed regrets. All gifts received prior to the cancellation should be promptly returned.
Step 1
Word the notice of cancellation with language similar to the tone used in the original invitation. The hosts of the event should be named, such as the parents of the bride or the hostess of a baby shower.
Step 2
Express polite, sincere regrets regarding the cancellation of the event. Offer a brief explanation without going into extensive details about life circumstances that caused the unforeseen cancellation. Briefly denote a family illness or death. It is unnecessary to explain a broken engagement, family divorce or any other delicate matters.
Step 3
Reiterate the basic information about the original event. Formal etiquette dictates that basic information about the guests of honor, venue and time be included in a cancellation note.
Tip
Email or voice messages should not be used to inform invited guests of a cancellation.
Extended family members and close friends can be informed of unforeseen changes through a personal phone call.