Things You'll Need
Invitations

Decorations

Gold balloons

Vintage CDs

Food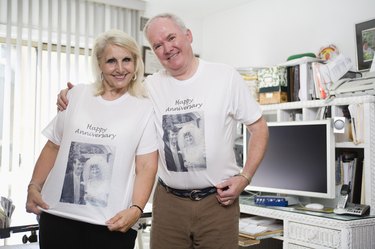 Preparing for a 50th wedding anniversary party can be fun and simple to do. Since you're celebrating the love of a couple, you can ask for help from friends and family. Delegating is important for this kind of event. Don't be afraid to ask others for help in planning and executing tasks on the big day. You can also hire a professional planner to do most of the work for you, if you can afford it.
Step 1
Plan for the day with your budget in mind. Rental halls and event centers can be a wonderful but pricey option. Choose a decorated home or the couple's church hall to save money. Think about how many people you would like to invite.
Catered food, tables, chairs, linens and other items can rack up your budget costs. Decorations and the length of your guest list are also determined by your budget and the personality of the couple.
Step 2
Send out invites early. This way you will know how much space and food you need for your party. Create a list that includes both family and friends of the couple. Ask the couple about guests, as there may be people they would like to attend that you may not know about.
Step 3
Decorate the space on the day of the party or the night before. Gold is the official color of the 50th wedding anniversary, so you can choose gold balloons or streamers to hang in the room where the party will be held.
Frame photos of the couple over the years and moments with their family members and friends to place around the room and on tables. Leave out a book that guests can sign, listing their favorite memories of the couple. Hire a DJ, organize a playlist of CDs or hire a band to play music from the decade when the couple was married.
Step 4
Cater food that the couple will like or ask guests to bring a covered dish. Find out what foods were served on the couple's wedding day and recreate them yourself or hire a chef. A cake is appropriate for this event. Check with the couple to see if there is a flavor or design they prefer.
Tip
Communication with the couple is very important. Since it is their day, it's best to defer to their wishes. Guests may be elderly and have specific preferences about food and activities.