Things You'll Need
Sandpaper

Vacuum cleaner

Primer/sealer

Paint rollers with long handles

Exterior wood floor/deck paint

Painting sand or non-skid adhesive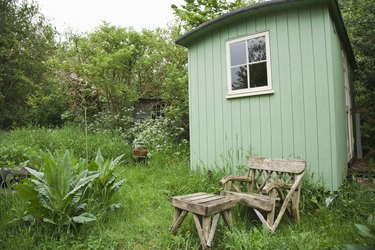 Tool shed floors are usually made of rough, inexpensive wood, such as plywood. You can paint the floor of your shed, which will seal and protect the floor, prevent splintering and improve the look of the shed. Choose paint made for exterior wood floors or decks.
Step 1
Plan your project for a day when air temperature is between 50 and 90 degrees Fahrenheit. Do not paint on an especially humid or rainy day.
Step 2
Clean the shed floor, and sand any rough, splintered or sharp edges. Vacuum to remove dust or dirt.
Step 3
Seal with a primer/sealer product. It will be easiest to apply using a roller with a long handle. Roll on with even strokes running in the same direction. Let the primer dry according to directions, at least three hours.
Step 4
Stir paint. Add a product such as painting sand or non-skid adhesive to the paint according to package directions. You can find this at the same home improvement store where you purchased the paint. Apply paint using a roller with a long handle. Roll on paint in even strokes going in the same direction. Start from the far corner of shed, working toward the door. Let the paint dry.
Step 5
Apply a second coat, rolling paint in opposite direction of the first coat. Allow paint to dry according to package directions before walking on the floor.