Things You'll Need
Scissors

Seam ripper

Tailor's measuring tape

Pins

Sewing machine

Thread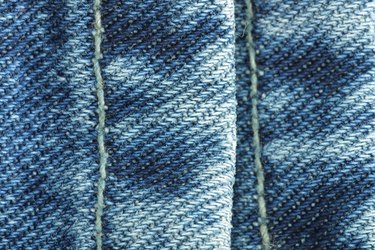 Sometimes jeans shrink after washing and sometimes we expand, but either circumstance means needing to let the waist out. There are certain small jobs that involve needle and thread that can be done with just basic sewing skills, and letting out a waist in a pair of jeans is one of them. Usually a pair of denim jeans will have enough extra material in the back seam to allow them to expand up to an inch or more. If you have a pair of jeans pinching you at the waist, try letting them out a bit.
Step 1
Locate the center seam at the back of the waist of the jeans. Look inside to see how much room is folded into the seam. Depending on the style of jean, there can be an overlap that will open out up to 2 inches.
Step 2
Cut the belt loop off the center of the back waist carefully with the scissors and set it aside.
Step 3
Slip the seam ripper tip beneath the stitching of the waistband at the bottom seam line. Pull the stitching loose for about 4 inches, about 2 inches to each side of the center seam.
Step 4
Use the seam ripper to remove the stitches at the center seam and open up the fold of denim. Move down about two inches from the top of the denim that is beneath the waistband down to just below it. Stretch the denim open.
Step 5
Use a tailor's measure, or a fabric measuring tape, to measure your waist. Measure the circumference of the waist of the jeans, or the distance around the inside of the waist, with the fabric unfolded. If you don't need all the fabric available, fold the seam back over so the waist measurement meets the length you need, and pin it in place.
Step 6
Pin the waistband back down over the back of the jeans so that everything is held in place.
Step 7
Resew the back center seam first, if necessary. If you are not sewing this, move to the waistband. For the center seam, start at the bottom of the area you unfolded and move up, make sure to sew the seam up past the point it will be beneath the waistband so there is not a bulge at the back of the seam.
Step 8
Sew the bottom seam of the waistband back in place, using a reverse stitch over each end of the stitching to reinforce it and hold it in place. Remove the pins, and test-fit the jeans.