Things You'll Need
Rag

Scissors

Bowl

Paintbrush

Foam cube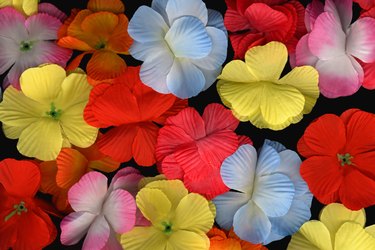 You can breathe new life into worn silk flowers with a product from Plaid Arts and Crafts called Petal Porcelain -- a quick-setting fabric stiffener which hardens and shines artificial flowers to a porcelain-like finish. Porcelained flowers look beautiful when arranged in a vase, wreath or bouquet and can also form the basis for a wide variety of unique craft projects. Petal Porcelain requires little previous crafting experience to apply, so even first time crafters can enjoy using this unique technique.
Step 1
Wipe your silk flower clean of any dust, dirt or debris with a clean, damp rag. Use a small, sharp pair of scissors to trim off any plastic or wire filaments or decorations from the inside of the flower.
Step 2
Fill a small bowl with enough Petal Porcelain to coat your flower. The exact amount will vary depending on the size and shape of your flower.
Step 3
Hold the flower upside down by the stem and dip it into the Petal Porcelain until the bud is completely submerged. Roll it from side to side to coat.
Step 4
Remove the flower from the Petal Porcelain. Stipple the center of the flower with a small paintbrush to work the solution as far into the flower as possible.
Step 5
Shake the flower lightly over the bowl to remove any excess Petal Porcelain. Press the stem of the flower into a foam cube and allow the flower to dry thoroughly -- for at least 24 hours.