Things You'll Need
Can of polyurethane

Paint stirrer

Plastic dishpan

4-inch stain brush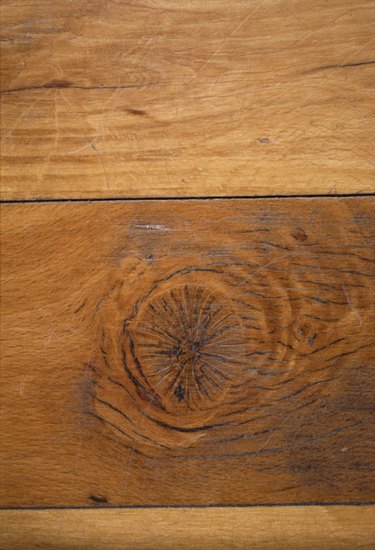 Polyurethane is a type of wood stain that can be applied to natural wood to help it retain its appearance and durability. If you have a polyurethane wood floor where parts of the finish are starting to wear off, you can re-stain these areas without sanding the surface. However, if you plan to re-stain the entire floor, then sanding the surface to remove the old finish is recommended.
Step 1
Open the can of polyurethane, and use a paint stirrer to thoroughly mix the contents. Be sure to drag the polyurethane on the bottom of the can up to the top.
Step 2
Pour a small amount of the polyurethane into a plastic dishpan.
Step 3
Dip a f4-inch stain brush into the dishpan and wipe the excess on the edge.
Step 4
Brush the polyurethane onto the wood floor surface moving in the direction of the grain.
Step 5
Wait for the polyurethane to dry and check the color. If it needs to be a bit darker to match the surrounding wood, apply one more coat.