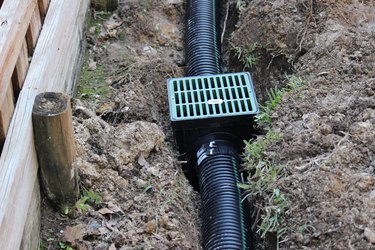 All houses with gutters have drain spouts, which are the vertical pipe attachments that move the water down and out to the ground. Sometimes, curious and unwelcome guests (mice, rats and chipmunks) get into the openings and climb up, become stuck or make their way into the gutters. If you have critters in gutters or your downspouts, this can be a real problem. Fortunately, there are straightforward ways to keep them out without causing injury or harm.
Why Gutters and Downspouts Are Important
Rain gutters protect homes from water damage. If you didn't have them, rainwater would collect on your roof and cause mold, deterioration and rot in the roofing structure. In turn, this damage would weaken the shingles, fascia and soffit. The moisture would also get into your home's siding, windows and foundation, which in the worst cases could lead to erosion, flooding and other significant damage. Downspouts are the only way to direct the water out of the gutters.
Keeping this all in mind, it's easy to see how a small critter could get stuck in a drainpipe or gutter, block the flow of water and cause problems. Besides that, they could cause damage to these drainage systems. Some even manage to travel through drainpipes and gutters and find openings, like foundation cracks or open windows. These openings can give them access to the inside of your home, and that will lead to a pest problem.
How to Keep Rodents Out of Downspouts
The main thing to know when trying to keep animals out of drain spouts is that you cannot completely block off the openings, as the water won't drain out if you do this. You can install chicken wire with gutter screws around the opening. Companies also make hardware cloth for chipmunks and other pests, which can be even better. This cloth is a wire mesh made from steel that is either welded or woven into a grid, and you can install it the same way. Cut it to size and install it with gutter screws.
You can also shop for plastic downspout rodent guards that snap onto downspout openings and then get screwed on. Before buying one, measure the downspout opening and ensure that the product will fit. Standard round downspout sizes range from 3 to 6 inches, rectangular ones are 2 by 3 inches, 3 by 4 inches and 4 by 5 inches. K-style gutter systems have 2 by 3-inch and 3 by 4-inch downspouts. Also, know that you'll have to remove the wire, hardware cloth or plastic rodent guard to clean off debris once in a while.
How to Hide Gutter Downspouts
Homeowners often look for ways to hide unsightly downspouts, especially when they are large. You can paint these to match the color of a home's exterior, and with the correct shade, you can effectively camouflage the pipe. Another suggestion is to plant climbing vines that you can train to grow around the downspout, but you need to watch out because if they get too heavy and thick, they can cause damage. Some people grow plants next to and in front of their downspouts, but this is an open invitation for pests, so you need to install that downspout rodent guard.
Should you choose to paint a drain spout, you'll need to remove it first. Look for the connection points and take them apart by removing the screws. Use sandpaper to remove any rust and clean the pieces with an oxygen bleach cleaner. Paint on a thin coat of metal primer and let everything dry for an hour. You'll want to paint it with two to three coats of metal paint; use spray paint to make the job easier.