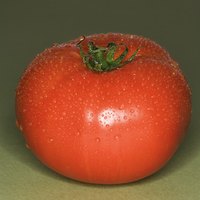 Fresh tomatoes are high in vitamin C, potassium and vitamin A. Tomatoes have an acidic flavor and you can add them to a variety of dishes. Freeze tomatoes to prolong their shelf life so that they last past the growing season. Frozen tomatoes can diminish in texture and are best added to dishes such as stews, soups and sauces. The tomatoes become mushy once they are thawed from the frozen state. Frozen tomatoes remain in high quality for up to 8 months in the freezer.
Things You'll Need
Cookie sheet
Freezer container or freezer bag
Freeze Fresh Tomatoes
Rinse the fresh tomatoes under cool running water. Dry the tomatoes off with paper towels.
Cut the stem from the tomatoes. Place the produce onto a cookie sheet in a single layer keeping them completely separate from one another.
Place the sheet of tomatoes in the freezer to freeze the whole tomatoes until they are firm and frozen solid.
Place the whole frozen tomatoes into a freezer container or freezer bag. Seal the tomatoes tightly and store them in the freezer.
Remove only the frozen tomatoes that you need to use. Run the tomatoes under warm water to remove the skin if desired.