Things You'll Need
Bracelet's closure

Scissors

Glue (cyanoacrylate)

Candle or lighter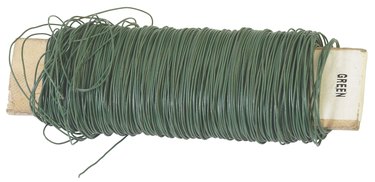 Gimp is the art of weaving plastic strings to create friendship bracelets. The material used in the process also is called lanyard, Scoubidou, craftlace or boondoggle lacing. There are different ways you can finish off a bracelet in gimp. One, referred to as the American way, consists of looping in the string; another, called the European way, involves gluing the final stitch. Combining the two in some manner can create a secure finish.
Step 1
Stitch your bracelet until it fits around your wrist without falling off or being too tight. Leave the last stitch loose so that you have four loops protruding at the end of the braid. You should be left with four loose strings, too.
Step 2
Pick up one of the four loose strings and wrap it around the nearest loop while pushing it towards the center of the braid. Grab the end of the string with your free hand and pull up.
Step 3
Repeat the process with two more strings, going counter-clockwise. Pick up the last string and pass it inside a bracelet's closure before wrapping it around the next loop.
Step 4
Pull all the strings together to tighten the knot, then pull each individual string to tighten even further while holding the gimp bracelet with your other hand.
Step 5
Cut the extra strings with scissors. Burn the gimp bracelet's ending with an open flame for a few seconds to melt the plastic and seal it.
Step 6
Wrap the loose strings around the loops that form the first stitch if you do not want to use a bracelet's closure. Make sure you keep the first stitch a little bit loose when you start the braid. Tighten the final stitch very tightly. Cut the extra strings with scissors. Burn or glue around the last stitch to seal it.
Tip
If you have used two colors to make the stitches, pass each ending string in the nearest loop of the same color. You can make you gimp bracelets with ribbons instead of plastic strings. Sew the first and the last stitches together. Make sure the colors match and you can even add a few twists before sewing to give an added eye catching effect to your bracelet.
Warning
Do not use the flame without the supervision of an adult. Use the candle or the lighter outdoors, away from any plant or object to minimize any accident. Use the glue outdoors since it is very flammable and the fumes are toxic.