Things You'll Need
Plumber's putty

Adjustable wrench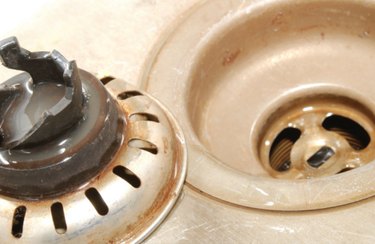 Installing a new kitchen sink drain will allow you to use a freshly installed sink, or it will fix leaks from an old sink drain. Even if you have never done any plumbing work before, installing a new sink drain does not provide too much of a challenge. A novice do-it-yourselfer should manage the installation process in less than an hour's time. If you are unsure where to find plumber's putty, ask for some when you purchase the new drain assembly at your plumbing supply store or home improvement center.
Step 1
Remove a ball of plumber's putty from its package. Roll the putty between your hands until you end up with a snake-like piece that is about the same thickness as a pen.
Step 2
Wrap the plumber's putty around the edge of the drain hole in the kitchen's sink. Tear off any part of the putty that overlaps the rest, making sure that the same amount of putty sits around the entire opening.
Step 3
Lower the sink's drain down into the drain opening. Once the drain assembly sits all the way down in the hole, press down on the drain firmly.
Step 4
Slide the rubber gasket and metal washer over the bottom of the sink's drain. Thread the lock nut onto the threads on the bottom of the drain, and then tighten the lock nut with adjustable pliers.
Step 5
Wipe away any plumber's putty that squeezed out between the drain and the sink. Thread the drainpipe onto the bottom of the sink's drain. Run water down the drain to check for leaks.