Things You'll Need
Pants

Measuring tape

Pins

Sewing machine

Iron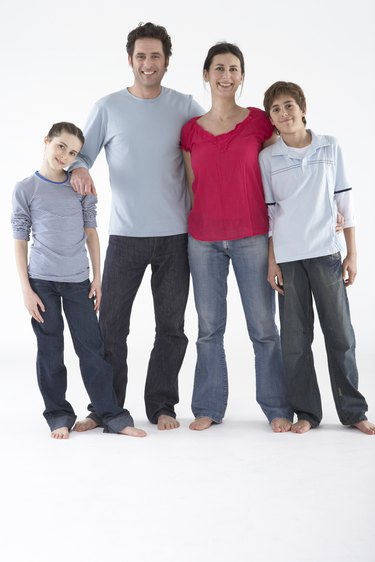 Pants that are the perfect fit around the waist, don't always fit through the inseam. Petite women and shorter men often have trouble purchasing pants that are short enough for them. Pants that droop past the ankle can be unflattering. Rehemming the pants can be tricky. Though it is possible to cut the bottom hem off of pants, recreating the stitching of the hem can be difficult, especially on jeans. Shorten the pants by adjusting the hem instead.
Step 1
Determine how much shorter you would like your pants to be and cut that number in half. For example, if you would like your pants to be 2 inches shorter, you will cuff your pants by 1 inch.
Step 2
Turn each pant leg inside out. Cuff your pants by flipping the bottom of each pant leg up to the measurement you came up with. So, if you want your pants 2 inches shorter, pull the hem up 1 inch. Measure to make sure your hem is placed accurately.
Step 3
Pin the cuff in place, measuring to make sure that the cuff is turned up evenly all around. If your cuff is not pinned evenly, your pants will be shortened unevenly, making for a messy, unprofessional finished product.
Step 4
Prepare your sewing machine and stitch the hem, sewing along the bottom seam of the old hem. Remove the pins as you sew so you do not damage your sewing machine. Stitch all around the cuff.
Step 5
Turn the pant legs right side out. Flip the unstitched part of the cuff back inside the pant legs, leaving only the newly stitched bottom hem showing on the outside. Slip an iron inside each pant leg, creasing down the part of the cuff that is now inside. Iron the outside of each pant leg, pressing the hem firmly down.
Step 6
Try on your newly shortened pants. Examine the shortened hem in the mirror and make sure the pants are as short as you need them to be. If you find that you have miscalculated, you can remove the stitching and start the process over. Since you did not cut the bottom of your pants, you can resew the hem easily.
Tip
If you often wear heels with your pants, determine how many inches you want to shorten your pants while wearing your heels and taking the extra height into consideration.
Use thread and needle suitable for the color and weight of the fabric. Denim may require heavier thread and needles.