Things You'll Need
Potato peels

Cookie sheet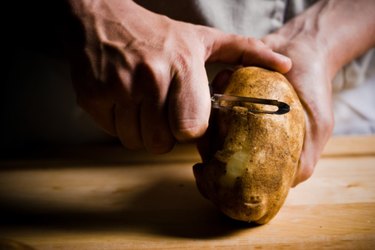 Fireplaces provide a cozy, romantic atmosphere to your home. The crackling of burning wood and the fire's glow will keep you nice and toasty during those cold, winter months. Unfortunately, with any open flame comes the risk of soot and creosote buildup, and a fireplace is no different. Over time, the oily black residue will turn your fireplace into an unsightly mess. Fortunately, you can use potato peels to help remove the soot from your fireplace chimney.
Step 1
Place the damp potato peels on a cookie sheet or flat surface. Set the peels in an out-of-the-way location out of direct sunlight and away from direct heat.
Step 2
Let the potato peels air dry for 24 to 48 hours until they are no longer damp. Only dry potato peels burn properly.
Step 3
Toss the potato peels carefully into a burning fireplace. The potato peels burn at high energy and will help push the soot and creosote out of the chimney.
Tip
Burning the potato peels will not eliminate all soot or creosote buildup, but they will reduce it. A normal and regular chimney cleaning is still needed to keep the fireplace working properly and safely.