Things You'll Need
Measuring tape

Newspaper

Scissors

Pencil

Small piece of fabric

Sewing pins

2 hair elastics

2 buttons

Needle and thread or sewing machine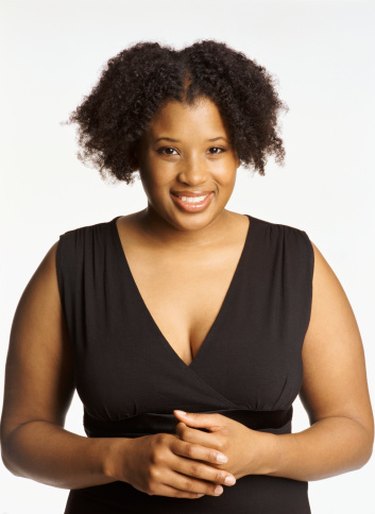 Many women who desire a modest look wear modesty panels, or modest panels, under low-cut tops in order to cover their cleavage. These clothing accessories are essentially small pieces of fabric that attach to your bra straps and cover the open areas of low-cut blouses. Modest panels are available in many different colors and can be purchased from several different retailers. Although they can be readily purchased from stores, you can easily make your own modest panels at home.
Step 1
Measure across your chest from one bra strap to the next. Write this measurement down.
Step 2
Lay a piece of newspaper on the floor. Draw a line that measures the length written down in step 1. From this line, draw a large half-circle shape onto the paper in the approximate size needed for your modest panel.
Step 3
Cut the shape out of the newspaper and hold it up to your chest to check the size. If needed, redraw and cut another half-circle shape in a larger or smaller size.
Step 4
Spread your fabric onto the floor and lay your newspaper pattern on top. Trace the outline of the pattern, about 1/4-inch from the edge. Cut the traced shape from the fabric.
Step 5
Fold the edges of the fabric under at about 1/4-inch, wrong sides together. Pin these folded edges to keep them in place, and sew a straight seam along the pins. Then, remove the pins.
Step 6
Lay one hair elastic on each top corner of the modest panel. Pin one corner of each of the hair elastics into place with sewing pins. The elastics should be placed at the very edges of the top corners. Stitch the hair elastic to the panel and remove the pins.
Step 7
Sew one button along the top edge of the modest panel, at about 1 1/4-inches from the side edge. Repeat to sew the other button to the other side of the panel.
Step 8
Stretch each hair elastic around the backs of each of your bra straps, and secure them into place by bringing them back around to the front and looping the elastics around the buttons.
Tip
For more interest, sew lace to the back of the top edge of your modesty panel.