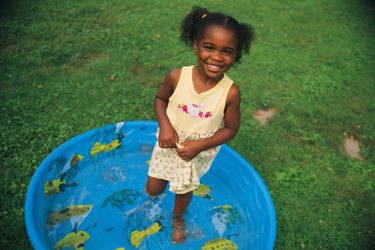 A toy enjoyed by many children -- and some pets -- is a plastic swimming pool. These pools provide a way for kids to keep cool on hot summer days when there isn't an above-ground or in-ground pool available. A plastic pool can also help you save water, as filling the pool once daily requires less water than running your sprinkler for hours. When your kids outgrow the pool, you can recycle it rather than send it to the landfill.
Step 1
Call your local city or township government to learn if your community recycles plastic pools. If not, ask if there's a location nearby which will accept it.
Step 2
Thoroughly clean the pool to remove any dirt from the surface.
Step 3
Leave the pool on your curb or deliver it to the designated drop-off site for recycling.
Tip
If recycling the pool isn't an option, try to make use of it if possible. Give it to a friend or neighbor with small children, or use it for your dogs to splash around in on a hot day. You can also use it as a large planter, or even a water garden.