Premium beef cuts, like filet mignon, have a natural, tender flavor enhanced by grilling techniques like smoking. Permeating the meat with smoke will intensify the taste and seal in the natural juices of this prime selection. Smoking meat takes prep work and cooking time so plan ahead to have this entree ready promptly when needed. This petite cut of meat has eye appeal too. Take a few extra minutes to plate this round cut before serving it to your hungry guests.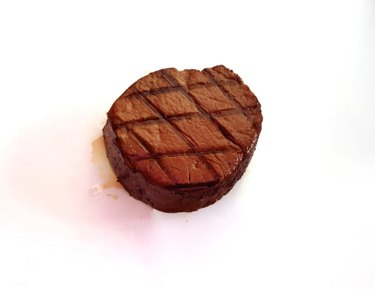 Things You'll Need
Pot Of Water

Toothpicks

Olive Oil

Wood Chips

Meat Thermometer

Charcoal

Aluminum Foil

Platter

Smoked Bacon

Basting Brush
Step 1
Pour wood chips into a pot of water. Allow the chips to soak for 2 hours before beginning to grill.
Step 2
Take the filet mignon from the refrigerator and set it on a platter. The steak needs to reach room temperature before cooking. Start the charcoal grill and allow the briquettes to heat thoroughly.
Step 3
Wrap the perimeter of the steak with one strip of bacon. Skewer the ends to the steak using a toothpick. Scoop half the wood chips and place them directly on the charcoal.
Step 4
Wrap the steaks loosely with aluminum foil leaving the tops open. Brush the tops of the steak with olive oil. Poke a meat thermometer into one steak.
Step 5
Place the rest of the wood chips in foil leaving the top portion of the packet open. Place all the foil packs on the grill. Close the lid for a more intense smoke flavor.
Step 6
Cook the filet mignon for 20 minutes or until the meat thermometer reaches 140 F. Remove the meat from the grill and allow the meat to rest for 10 minutes before slicing it.
Tip
Use different wood chip "flavors" to achieve different smoked tastes.