Things You'll Need
Nightstand

Daybed cover

4 Bolster pillows

2 throw pillows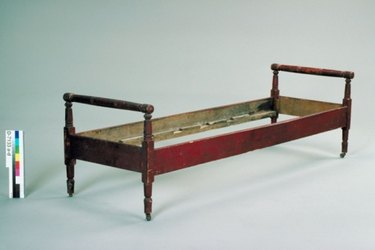 Anyone who's ever lived in a studio apartment will tell you how selecting furniture and decorating can often be a challenge. Some people opt for futons or sofa beds so their apartment looks presentable when people visit. Others opt for comfort, selecting standard beds. However, this option poses the challenge of masking your bed to look more like a couch during the day, as guests don't want to feel like they're in your bedroom. Luckily, converting a bed into a couch is a simple, strategic process.
Step 1
Push your bed lengthwise against the wall, ideally into a corner. Move your nightstand next to the free side of the bed so it resembles an accent or side table.
Step 2
Cover your bed with a daybed cover. This helps your bed look more like a couch. The cover will conceal your bed pillows, dust ruffle, sheets and bedspread, and allows people to sit on it without you worrying about them getting crumbs or spilling anything on your bed linens.
Step 3
Place two bolster pillows on top of each other against the long side of your bed against the wall. Place another bolster pillow along the short sides of the bed on the right and left.
Step 4
Add decorative throw pillows against the back of your "sofa" to complete the look.
Tip
This process works best on twin beds that have headboards and footboards of the same height. If possible, try to get all your colors to coordinate in some way. For example, your color scheme can be shades of blue or two colors that are complementary, such as blue and yellow.